It's world vegetarian day, so to mark it, here's a delicious meat-free recipe that's tasty and easy to make.
These bean patties are stuffed with a nutritious and yummy filling, plus they're gluten free, so are perfect for those with a gluten or wheat intolerance. If that's not enough, these veggie treats are served with a fiery chilli yoghurt for a dish that's packed with flavour.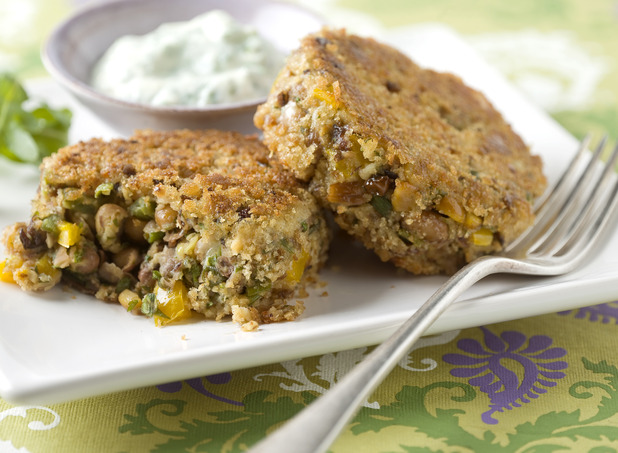 Ingredients
50g DS-Gluten free Wholesome White Slice Loaf, made into breadcrumbs
15ml olive oil
4 topped and tailed spring onions
1/2 deseeded and chopped green chilli
1/2 yellow pepper, deseeded and finely chopped
15ml fresh coriander
410g Mixed Beans, tin or mixed beans and pulses, coarsely mashed
15ml (1 tablespoon) fresh coriander
85ml (3 floz) soya yoghurt
15ml (1 tablespoon) fresh coriander
Method
1
Heat 1 teaspoon of the olive oil in a frying pan and add spring onions, chilli, yellow pepper and coriander, fry until soft and golden, add the beans and fresh coriander.
2
Place the breadcrumbs on a plate, divide the bean mixture into 4 sections, pat into burger shapes and coat in the breadcrumbs.
3
Heat the remaining oil in the frying pan, place in the bean burgers and fry for 8 minutes turning after 4 until golden brown.
4
Place the soya yoghurt, green chilli and coriander in a bowl and combine together for the dressing.
5
Serve the patties with the dressing and a sweet potato and carrot mash.
Prep Time
15 minutes
Cook Time
12 minutes
Nutrition Information
Serves 2
More amazing vegetarian recipes:
Copyright: Morrisons