Mary Berry and co. have got the whole nation in a baking frenzy, so if you're missing the Great British Bake Off why not console yourself by making these adorable lemon macaroons?
These fancy French nibbles are really delicious and will look super cute served on a pretty plate when you're looking to impress guests. Macaroons are also quite expensive to buy as they're currently so fashionable so these home-made ones make great pressies, too.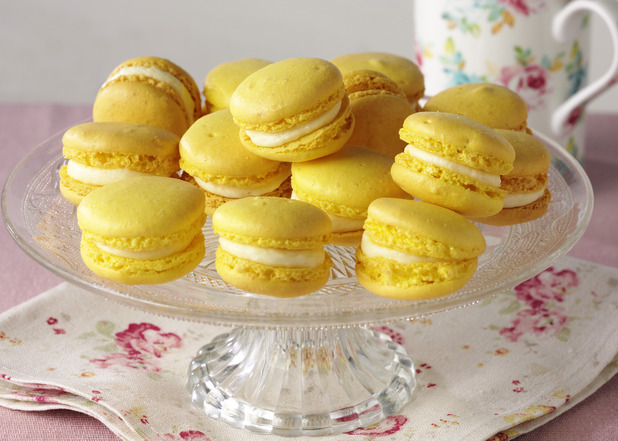 Get baking and make your own sugary snacks with this simple guide.
Ingredients
100g icing sugar
75g ground almonds
Finely grated rind 1 lemon
2 large egg whites, at room temperature
75g caster sugar
Few drops yellow food colouring or paste
For the lemon filling:
150g mascarpone
75g The English Provender Co. Luxury Lemon Curd
Method
1
Line 2 baking sheets with baking paper and trace 20 x 3cm circles on each, then turn the paper over. Preheat the oven to 150˚C, Gas Mark 2.
2
Place the icing sugar, ground almonds and lemon rind in a food processor and blitz to make a fine dust.
3
Whisk the egg whites in a large bowl, using an electric whisk, until the mixture forms soft peaks, (do not over whisk). Gradually whisk in the caster sugar a little at a time until the mixture is stiff and glossy. Whisk in the food colouring, until you have an even colour.
4
With a large metal spoon, gently fold in the icing sugar and almond mixture, until well incorporated.
5
Transfer the mixture to an icing bag with a plain nozzle and holding the bag vertically, pipe the mixture evenly into the centre of the circles, keeping the discs even in size and volume.
6
Bang the sheets down a few times, to expel any air bubbles and peaks. Set aside for 30 minutes, to dry out and form a skin, the mixture should not stick to your finger when touched.
7
Bake in the oven for about 15-18 minutes until the surface is firm, leave to cool on the baking sheet for 15 minutes, then transfer to a wire rack to cool.
8
To make the filling, whisk the mascarpone with the lemon curd until thick, transfer to a piping bag with a plain nozzle and pipe into the centre of the flat side of 20 of the macaroons, sandwich together with the remaining macaroons.
Once filled the macaroons are best eaten on the same day.
Prep Time
20 minutes, plus 30 minutes drying time
Cook Time
15 minutes
Nutrition Information
Makes 20 macaroons
Love baking? Check out these great recipes:
Copyright: Eggs For Soldiers
Reveal is now on Google Plus! Join us here for the latest pictures, fashion and celebrity news!