Pizza and Bloody Marys always top our favourite hangover cures, so what could be better than combining the pair?
Next time you're feeling rough after a night out on the town, we seriously recommend whipping up this amazing recipe for a Bloody Mary Pizza.
It uses a special tomato base that even contains a cheeky addition of vodka, while the tomatoes, celery, Tabasco and Worcestershire Sauce will help to create that iconic Bloody Mary taste. If this doesn't sort you out, we don't know what will!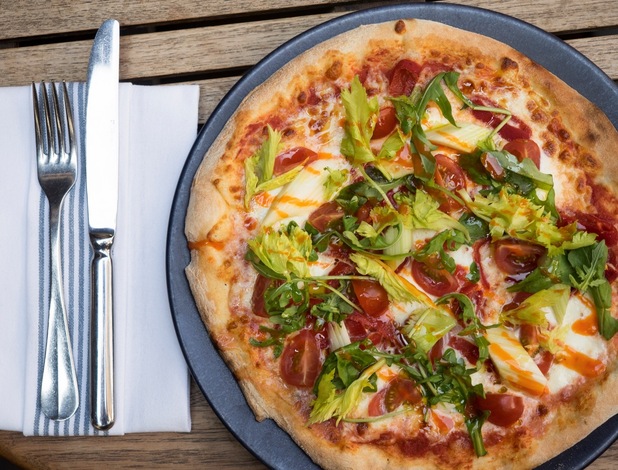 Ingredients
For the dough:
500gm strong flour
150gm water tepid
1.5gm yeast
2.5gm extra virgin olive oil
1.2gm salt
For the Bloody Mary base:
1 lemon wedge
2 lime wedges
2oz premium vodka
5oz tomato juice
2 dashes Tabasco sauce
2 teaspoons finely grated horseradish
2 dashes Worcestershire sauce
1 pinch homemade celery salt
1 pinch ground black pepper
1 pinch smoked paprika
1 pinch mustard powder
For the topping:
5 celery leaves to garnish
Rocket
Cherry tomatoes
Method
1
Add yeast to water and mix until fully combined.
2
Add half the flour and mix well for fifteen minutes.
3
Next add salt and mix for another five minutes, making sure the dough doesn't stick to your hands.
4
Then add the remaining flour then oil.
5
Set aside for half an hour at room temperature then roll into balls and leave for a further two hours to prove.
6
Once ready, roll out the dough and squeeze over the lemon and lime wedges.
7
Add Tabasco and Worcestershire sauce. Then sprinkle over the celery, salt, pepper, paprika and mustard powder.
8
Add the vodka and tomato juice and season to taste.
9
Pre-heat the oven and bake at 300-400 degrees for 8-10 minutes.
10
To complete the pizza, top with celery leaves, cherry tomatoes and rocket.
Prep Time
20 minutes prep, plus 2 hours resting time
Cook Time
10 - 12 minutes
Nutrition Information
Makes 4 pizzas
More delish recipes for blitzing the hangover:
The Ultimate Cooked Breakfast
Masala Scrambled Eggs
Omelette Salsa Burrito
English Breakfast Tortilla
Reveal is now on Google Plus! Join us here for the latest pictures, fashion and celebrity news!