If you always find yourself with leftovers from a Sunday roast, then we have a great way to use them up, thanks to TV chef Sophie Wright.
This leek and pulled ham bubble and squeak concoction will use your spare cabbage, peas and roast potatoes, so all you need to do is buy a small piece of ham to create this scrumptious dish. Serve with a poached egg for a wonderful brunch or supper.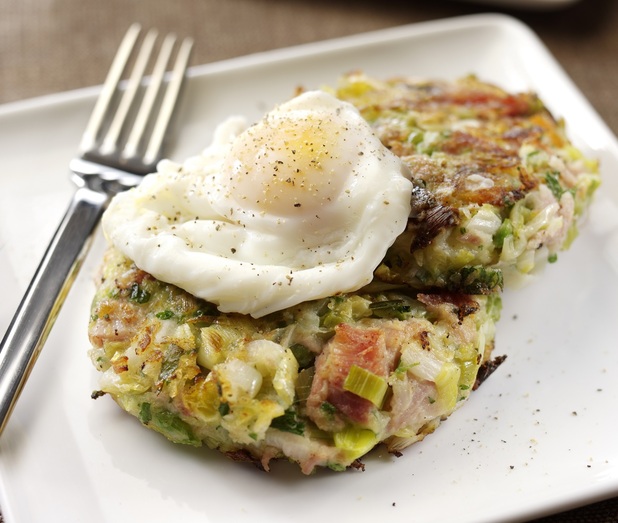 Ingredients
50g butter
2 British leeks, finely sliced into rings
125g savoy cabbage, finely shredded with the tough stalk removed
300g left over roast dinner or mash potato (potatoes, parsnips, carrots, peas, cauliflower)
150g shredded ham (buy a small cooked gammon or you can ask at the deli counter for a nice thick slice)
15g chopped flat leaf parsley, finely chopped
2 large, free range eggs
2 tablespoons plain flour
2 tablespoons rapeseed oil
Salt and pepper
Method
1
Place a large frying pan on the stove and add the butter. Turn the heat to medium and when the butter has melted add in the chopped leeks.
2
Add a pinch of salt and allow to cook for 6-8 minutes, stirring occasionally until the leeks are starting to wilt. When this happens, add the shredded cabbage, stir into the leeks and cook for a further 5 minutes, you may need to add a tablespoon of water if it's looking a little dry.
3
If you are using leftovers to bind your bubble and squeak cakes, you will need to now mash these together well in a bowl using a potato masher, you can also do it in a food processor. Remove the leeks from the heat and pour into the bowl with your leftover roast dinner veggies or with your mash potato.
4
Leave to cool slightly while you shred your ham and chop your parsley. Add your shredded ham to the vegetable mix along with the parsley and season well with lots of pepper and a pinch more salt. Combine well.
5
Now you can shape your mix into cakes. You can make 2 large ones or 4 smaller ones. Then boil the kettle to poach your eggs.
6
Dust your cakes lightly in the flour, tap off any surplus and heat a large frying pan with the rape seed oil.
7
When the oil is hot, lay in your cakes and fry them for 5-6 minutes on each side until golden brown. These can be cooking while you poach your eggs.
8
Pour the boiling water from your kettle into a medium size saucepan. Crack eggs into two separate ramekins or small cups.
9
Using a whisk, gentle stir the water creating a vortex in the centre of the pan. When the vortex starts to slow down, gently pour in the cracked eggs, one at a time, making sure the water isn't rapidly boiling, but rather slowly ticking over.
10
Cook the eggs for 5 minutes, before gently removing from the water using a slotted spoon. Place onto kitchen paper to remove any excess water.
11
By now the bubble and squeak should be cooked and nicely caramelised. Serve these on warmed plates with the poached egg on top and a squeeze of your favourite condiment.
Prep Time
20 minutes
Cook Time
15 minutes
Nutrition Information
Serves 2
Reveal is now on Google Plus! Join us here for the latest pictures, fashion and celebrity news!
Check out our gallery of delish brunch and breakfast recipes