Stew is a staple supper that we always turn to when the temperature drops – it's super comforting and a total winner in the winter months.
TV chef Sophie Wright created this hearty version, which combines leeks, potatoes and haddock, as well as a few exciting spices and herbs. It's ideal for those cold evenings and really easy to whip up.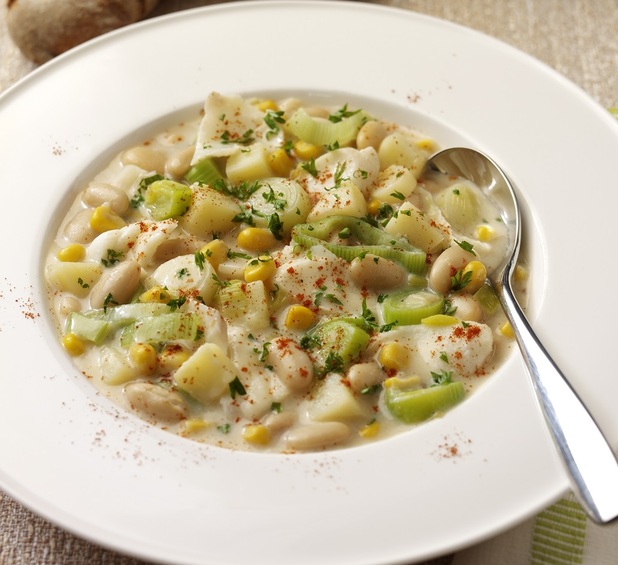 Ingredients
30g butter
2 leeks, trimmed and sliced thinly into rings
200g potatoes, peeled and cut into 1cm dice
Salt and freshly ground black pepper
400ml milk
600ml fish, chicken or vegetable stock
1 bay leaf
400g smoked haddock fillet, undyed
30g plain flour
1 x 195g tin of sweetcorn
2 x 400g tins white beans; drained and washed (you can use cannellini, butter or haricot beans)
1 tablespoon chopped parsley
1 teaspoon smoked paprika
Method
1
Place a medium-sized saucepan or sauté pan on the stove and add the butter. Allow it to melt before adding the leeks and potatoes with a pinch of salt and a generous twist of pepper. Cook for 10 minutes until the leeks are soft.
2
Meanwhile, pour the milk and the stock into another pan with the bay leaf and add the fish. Bring to the boil before removing the fish from the poaching liquor. When cool enough to handle, flake the fish into chunks and remove and discard any skin. Set the cooking liquor aside.
3
Add the flour and the sweetcorn to the leeks and potatoes and stir well. Cook the flour and sweetcorn for a few minutes before adding the hot poaching liquor. Mix well and bring to the boil. Add the drained beans and simmer until the potatoes are tender.
4
Add the flaked fish to the stew and heat through. Taste for seasoning. Stir in the chopped parsley and sprinkle with a little smoked paprika. Serve with crusty white bread.
Prep Time
15 minutes
Cook Time
20 minutes
Nutrition Information
Serves 4
For more recipes, head here.
More warming recipes:
Gourmet Cheese On Toast
Hearty Cheese and Vegetable Omelette
Cauliflower and Macaroni Cheese
Braised Beef and Pumpkin Stew
Reveal is now on Google Plus! Join us here for the latest pictures, fashion and celebrity news!
Check out more comfort food recipes in our gallery