What better inspiration to get you involved in a fabulous charity bake off - this delicious Nutella Baked Cheesecake recipe from Great British Bake Off 2013 contestant Glenn Cosby!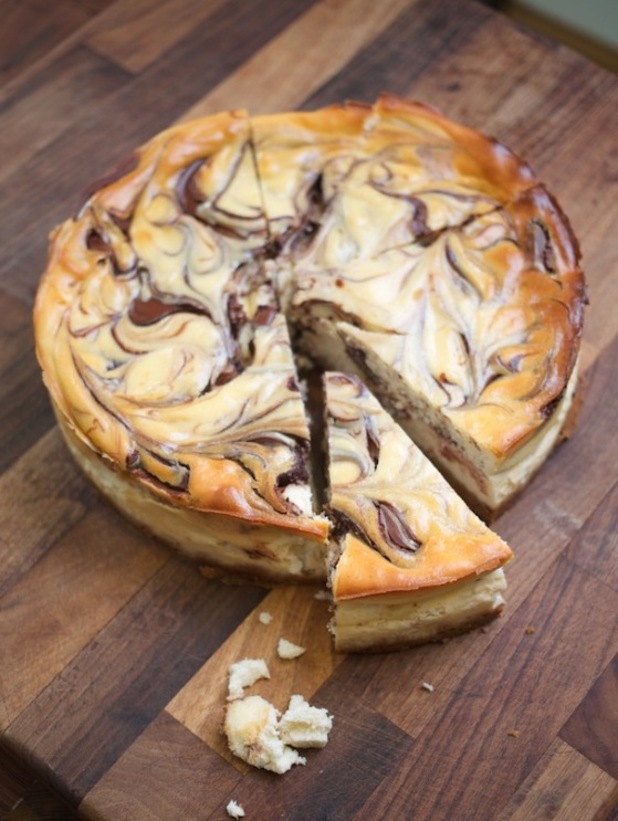 Stars of the Bake Off have joined up with other celebs to donate to support
Bake it Better Week,
a nationwide bake sale which is taking place between
October
13-19
to raise funds for London's famous Great Ormond Street Children's Hospital.
Find out how you can get involved (and check out more fab Bake Off recipes)
HERE.
Ingredients
200g digestive biscuits
60g salted butter
900g full-fat cream cheese
150g sour cream
200g caster sugar
2tbsp cornflour
2tsp vanilla essence or paste
4 medium eggs
2 egg yolks
200g Nutella or hazelnut chocolate spread
Method
1 Preheat the oven to 150⁰c or gas mark 2
2 Put 200g digestive biscuits in a freezer bag and thoroughly crush with a rolling pin
3 Melt 60g salted butter in the microwave and mix with the biscuit crumb
4 Lightly grease a 20cm spring-form cake tin with butter and press the biscuit crumb to create a firm, even base for the cheesecake
5 In a large mixing bowl use an electric hand beater or whisk to thoroughly mix the 900g cream cheese, 150 sour cream, 150g caster sugar, 2 tablespoons of cornflour and 2 teaspoons of vanilla
6 Once this mixture is completely smooth beat in the eggs one at a time
7 Now for the assembly and the swirl, start by spooning about a third of the cream cheese mixture on top of the biscuit base
8 Randomly dollop four heaped teaspoons of Nutella around the cheese mix before spooning in another third of the cheese, add another four teaspoons of Nutella and then spoon over the top the last of the cheese mixture, finally spoon randomly but evenly across the rest of the Nutella
9 Take a skewer and swirl the cream cheese and Nutella together from the outside to the centre of the cake
10 Gently tap the tin onto your work surface to urge air bubbles to the surface
11 Bake for an hour and a half until the edge is golden and the centre slightly risen
12 Take the cheesecake out of the oven and allow to cool completely before chilling in the fridge until it is firm
13 Run a thin knife or palette knife around the tin to loosen the cheesecake before taking out of the tin, it is now ready to be served
Reveal is now on Google Plus! Join us here for the latest pictures, fashion and celebrity news!
We've got loads of brilliant recipes for you to bake to raise money! Check out our gallery below.