We're opting for oriental flavours in the kitchen tonight with this scrumptious salmon supper from Super Golden Bakes, which was created to mark 20 years of Freedom Food with Sainsbury's.
The recipe uses soba noodles, which are made from buckwheat flour and have a lovely nutty flavour. Fresh pieces of fish, carrots and courgettes are all served together with a fiery marinade. This dish is really easy to make but will still add that wow factor to your meal.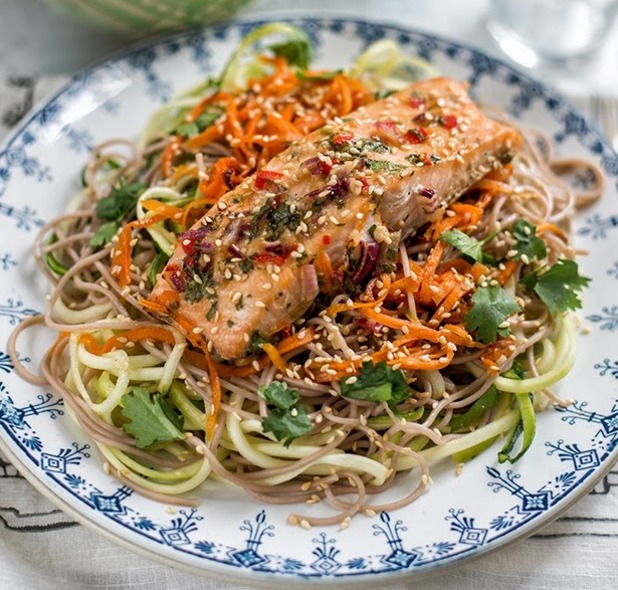 Ingredients
4 Sainsbury's Freedom Food Salmon fillets
2 large courgettes (zucchini)
3 large carrots
1 packet Soba noodles
For the marinade:
1 shallot or small red onion, finely diced
1 red chilli, seeded and finely diced
1 large garlic clove, minced
2 tablespoons fresh coriander (cilarntro) finely chopped
Juice of 1 lime
4 tablespoons soy sauce
3 tablespoons honey (or agave syrup or dark brown sugar)
1 tablespoon vegetable oil
1 teaspoon vinegar (rice vinegar preferably)
1/2 teaspoon minced fresh ginger (optional)
1-2 tablespoons toasted sesame seeds to serve (optional)
Fresh coriander, chopped, to serve
Method
1
Place the salmon fillets on a heavy tray lined with kitchen foil. Fold the edges up to create a little foil container.
2
Mix all the marinade ingredients together and pour over the salmon. Cover and keep chilled for 30 minutes.
3
Use a spiraliser to create long ribbons out of the carrots (or shred them in a food processor or finely slice them by hand).
4
Preheat the oven to 190C (375F). Turn the salmon fillets skin side down. Arrange the carrot strips around them.
5
Bake for 10 minutes or until the salmon is cooked halfway. Flip over carefully and bake for a further 10 minutes.
6
While the salmon is cooking, bring a large pot of water to the boil. Add the noodles, stir, and lower the heat to a rolling simmer. Cook for 3-4 minutes until al dente (keep an eye on the pot as it has a tendency to boil over).
7
Rinse with plenty of cold water, drain thoroughly and return to the pot.
8
Use a spiraliser to create noodles out of the courgettes and mix with the soba noodles.
9
Divide the noodles between four plates. Spoon some of the carrots and pan juices over them and top with the salmon.
10
Sprinkle with toasted sesame seeds and a little coriander and serve.
Prep Time
45 minutes - 1 hour
Cook Time
24 minutes
Nutrition Information
Serves 4
Check out these other fab salmon recipes:
Salmon Burgers In Pitta Pockets
Salmon and Scallop Skewers
Smoked Salmon and Prawn Pasta
Salmon and Spicy Potato Bake
Reveal is now on Google Plus! Join us here for the latest pictures, fashion and celebrity news!