Warm, comforting and full of flavour, you can't beat a classic toad in the hole, the perfect dish for a cold autumn day.
Crispy batter and juicy sausages are combined together for a dreamy dinner that the entire family just won't be able to resist. This easy-to-do recipe will get you a tasty supper in a speedy amount of time – serve with fresh veggies and buckets of gravy!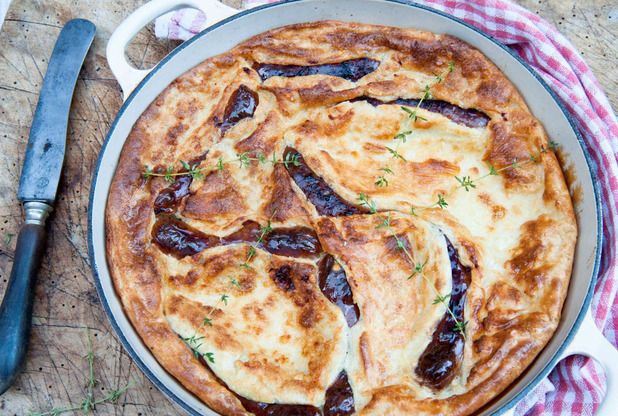 Ingredients
6 pork sausages
A drizzle of vegetable oil
100g plain flour
Generous pinch of salt
Generous pinch of white pepper
60ml water, cold
100ml full-fat milk
Method
1
Lay the sausages in a small roasting tin, drizzle with oil and place in a preheated oven at 180°C/350°F/Gas Mark 4 for 10 minutes.
2
Add the flour, salt and pepper to a bowl, make a well in the middle of the flour and break both eggs into it.
3
Using a hand whisk, mix the eggs with the flour starting slowly from the centre. Once the eggs are combined, gradually add the water, mixing to a thick paste. Finally, add the milk, continually mixing with the hand whisk until the batter is smooth
4
When the sausages are just starting to brown in the oven, take them out, turn the oven up to 200°C/400°F/Gas Mark 6, pour the batter in with the sausages and return them to the oven for a further 20 minutes.
5
When cooked, it will have risen and be golden brown and crispy on top. Serve immediately with an onion gravy.
Prep Time
10 minutes
Cook Time
30 minutes
Nutrition Information
Serves 3
More comforting recipes to try:
Cauliflower & Macaroni Cheese
Irish Lamb-Stew Hot Pot
Cider Roasted Pork Belly & Bramley Apples
Beef Stew With Garlic Bread
Reveal is now on Google Plus! Join us here for the latest pictures, fashion and celebrity news!