Marmite? In a curry?Yes, it can be done and Indian chef, Vivek Singh, from top London restaurant Cinnamon Club has devised the perfect recipe: this Chicken Marmite Korma.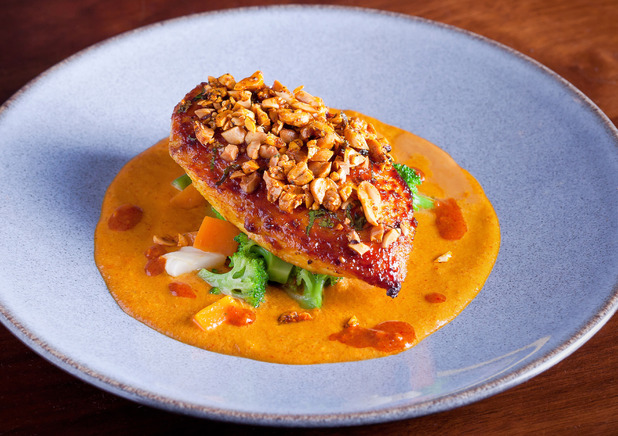 Vivek's devised this Chicken Marmite Korma to mark
National Curry Week
which is October 13-19. Brit favourite Marmite is added to masala peanuts, a juicy chicken breast and classic korma sauce for added ooomph.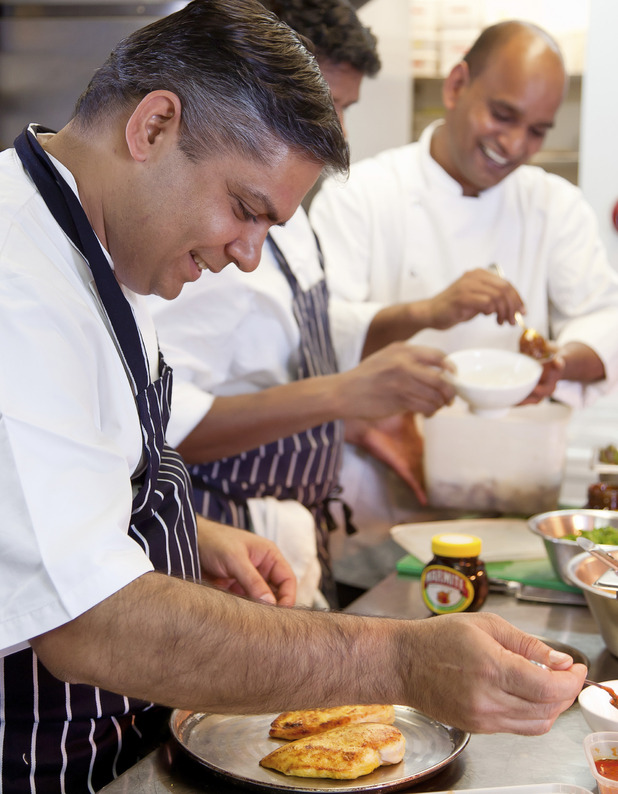 Ingredients
4 chicken breasts
For the marinade:
1/2 teaspoon salt
Juice of 1/2 lemon
1 green chilli, finely chopped
1 teaspoon ginger chopped
1/2 teaspoon turmeric powder
1 teaspoon oil
2 teaspoon ginger garlic paste
For the masala peanuts:
60g peanuts (roasted, cool & roughly chopped)
1 tablespoon oil
1/2 red onion, finely chopped
1/2 teaspoon chilli powder
For the sauce:
2 white onions, diced
15g cashew nuts
15g peanuts
1 teaspoon coriander seeds
1/2 teaspoon cumin seeds
1 teaspoon poppy seeds
1 teaspoon sesame seeds
4 fenugreek seeds
4 peppercorns
1 dried red chilli
2 tablespoons desiccated coconut
1 tablespoon Marmite
2 tablespoons tamarind
Method
1
Mix together all the ingredients for the marinade and then rub them over the chicken breasts and set aside.
2
Sear the chicken breasts on both sides and then place in the oven for 6 to 7 minutes.
3
For the masala peanuts, heat a pan and pour in the oil. When it is hot, add the finely chopped red onion and sauté for one minute. Add the chilli powder and peanuts and remove from heat. Cool and set aside.
4
Now for the sauce. In a dry frying pan, roast all the ingredients except the onions, Marmite and tamarind. Dry roast them in a frying pan for 2-3 minutes or in an oven for 10-15 minutes. Blend to a paste using a food processor, adding as little water as possible.
5
In a separate pan, boil the onions in a cup of water for 15-20 minutes and blitz to make a puree.
6
In a clean pan, heat oil, add the boiled onion puree and sauté for 2-3 minutes. Add the spice and nut paste, sauté for a few more minutes. Add 200 ml of water and simmer for 5-6 minutes to cook all the spices. Finally, add Marmite, tamarind and correct seasoning.
7
When ready, spoon the sauce onto the centre of the plate placing the cooked chicken breast on top. Sprinkle with masala peanut topping and serve.
Prep Time
20 minutes
Cook Time
25 minutes
Nutrition Information
Serves 4
Love curry? Check out these great recipes:
Home Made Butter Chicken Curry
Thai Green Chicken Curry
Bombay Bacon Curry
Channa Dhal - Red Lentil Curry
Check out our gallery of curry recipes, too!