We all know that fair trade is important, but sometimes it can be easy to forget where your food came from when you're tucking into a delicious chocolate bar.
That's why the Great British Fairness Debate has been launched by the Fairtrade Foundation. The campaign runs from 29 September until 12 October and encourages people to make small changes to ensure a better welfare for coffee farmers.
Fancy doing your own bit for this fantastic cause? We've got a got a gorgeous cappuccino coffee cheesecake recipe, which shows just how easy it is to whip up a fairer treat. Super creamy, its dark chocolate biscuit and coffee combo makes this a culinary winner.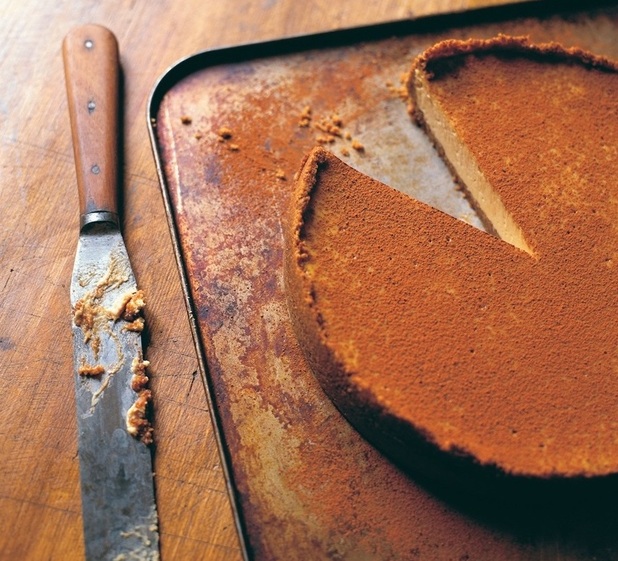 Ingredients
For the base:
1 x 100g bar Divine 70% dark chocolate
50g unsalted butter, diced
200g digestive biscuits
For the filling:
500g best quality cream cheese
125g light muscovado sugar
50g caster sugar
2 rounded teaspoons instant coffee dissolved in 1 tablespoon hot water
1 tablespoon Kahlua (optional)
2 large free range eggs
To finish:
Divine cocoa powder for dusting
You'll need a 23cm spring-clip tin, greased, set a baking tray
Method
1
Break up the chocolate and melt very gently with the butter in a large heatproof mixing bowl. Remove the bowl from the heat and stir gently until smooth. Put the biscuits into a plastic bag and crush with a rolling pin to make fine crumbs.
2
Tip the crumbs into the melted chocolate, mix well and then tip the mixture into the prepared tin. Using the back of a spoon, press the mixture into the base of the tin and halfway up its sides. Chill until needed.
3
Heat the oven to 160C/325F/Gas 3. To make the filling, put the cream cheese, both sugars, dissolved coffee, Kahlua (if using) and the eggs into the bowl of a food processor and run the machine until the mixture is very smooth.
4
Pour the filling into the tin set on the baking tray and bake in the heated oven for 40 minutes until just set, then turn off the heat and leave the cheesecake to cool in the oven. When completely cold cover and chill overnight.
5
To serve, carefully unclip the tin and set the cheesecake on a serving plate. Dust heavily with cocoa. Store, tightly covered, in the fridge and eat within 4 days.
Prep Time
20 - 30 minutes (plus overnight chilling time)
Cook Time
40 minutes
Nutrition Information
Serves 8 - 12 people
If you like baking, you'll love these recipes:
Copyright: Eggs For Soldiers
Reveal is now on Google Plus! Join us here for the latest pictures, fashion and celebrity news!