Cling on to that last bit of sunshine with this wonderful fresh salad – the ideal dish for a healthy but yummy lunch.
This colourful meal is full of a whole host of exciting ingredients, including melon, tomatoes, olives and feta cheese. Topped with a sweet lemon dressing, it leaves you with a healthy but scrumptious salad.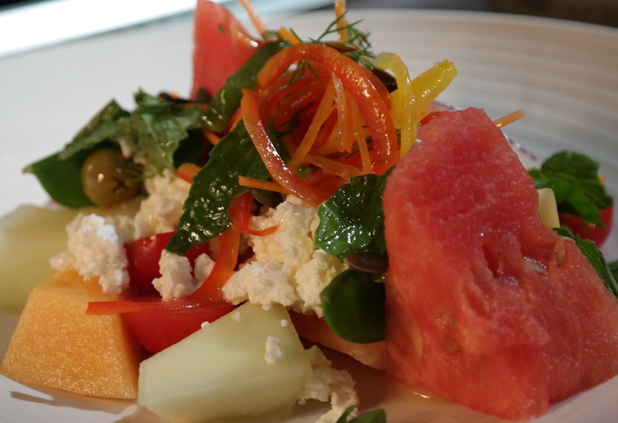 Ingredients
For the sweet lemon dressing:
80ml fresh lemon juice
50ml rice vinegar
15g caster sugar
50g plum sauce
100ml olive oil
100ml vegetable oil
Salt and pepper
For the salad:
1 small watermelon (or half if medium in size)
½ small cantaloupe melon
½ honeydew melon
24 pitted Kalamata olives
4 radishes
12 cherry tomatoes
16 mangetout (or green beans or sugarsnaps)
16 mint leaves
120g feta cheese
2 tablespoons toasted pumpkin seeds
Optional: a vegetable garnish comprising of thinly sliced red, yellow & green pepper, carrots & red onion, some picked herbs as your preference.
Method
1
Start with the dressing. Put all the ingredients into a suitable container and emulsify using an electric hand blender. Alternatively whisk the sugar and salt with the vinegar and lemon juice until dissolved, and then add the rest of the ingredients and whisk again until well combined. Keep refrigerated until needed. This will make more than enough - any extra will keep refrigerated for two weeks.
2
Peel watermelon and melons, remove seeds (Don't worry if there are a few seeds left on the watermelon). Dice the melons into inch cubes and cut the watermelon into very thick wedges, around three or 4 per person.
3
Thinly slice the radishes and halve the cherry tomatoes, set aside.
4
Blanch the mangetout (or any other green similar beans) by immersing in boiling salted water for no longer than 30 seconds, refresh immediately by putting under cold iced water.
5
Assemble the salad. On a large serving dish arrange all the watermelon and melon pieces.
6
Spoon over the olives and scatter the radishes and cherry tomatoes all over. Crumble the feta cheese and scatter all over.Tear the mint into pieces and scatter over the top.
7
Spoon over the dressing - we recommend two tablespoons per serving.Top with the vegetable garnish (if desired) and sprinkle with the toasted pumpkin seeds.
Prep Time
20 minutes
Cook Time
5 - 10 minutes
Nutrition Information
Serves 4
Recipe courtesy of The Jones Family Project
More sensational salad recipes:
Reveal is now on Google Plus! Join us here for the latest pictures, fashion and celebrity news!