Whenever we're feeling peckish, cheese on toast is our go-to snack – warm, comforting and simple.
However, if you fancy sprucing up this basic dish, we've got a posh, lactose free version from Michelin chef Tom Aikens. Adding a fancy mustard sauce and onion chutney, this is the ultimate gourmet cheese on toast.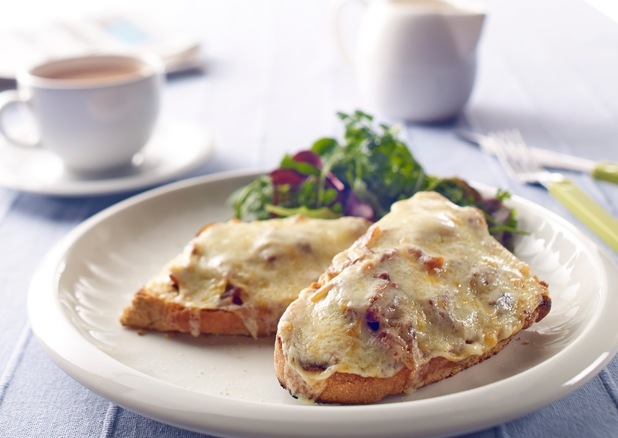 Ingredients
For the mustard sauce:
350ml Lactofree Whole (Hot)
35g flour
30g Lactofree mature cheddar cheese, grated
25g Spreadable
Fresh black pepper
1 tsp of sea salt
2 level tsp English mustard
For the shallot chutney:
250g peeled and sliced shallots
150g peeled and diced pears
200ml cider vinegar
70g dark brown sugar
25g dark raisins
1g cinnamon powder
6g finely chopped fresh ginger
5g mustard seed
1g mustard powder
1g ginger powder
2g salt
To finish:
4 slices toasted sourdough
100g Lactofree mature cheddar (grated)
Method
1
Melt the spreadable in a pan on a low heat, then add the flour and cook for 5 minutes stirring regularly.
2
Whilst this is cooking, place the Lactofree whole into a pan and bring the milk to a low heat. Pour the Lactofree whole little by little into the flour and spreadable mix whilst stirring. Make sure the heat is on low so the pan does not burn.
3
Add the salt and pepper into the pan and bring to a slow simmer, cooking for 5 minutes at a low heat, stirring all the time. Add the cheese and mustard. It should be lump free, if there are a few lumps then pass through a fine sieve
4
To make the shallot chutney, place all the ingredients into a pan and bring to a slow simmer, cook for about 1 hour with a lid on stirring now and again.
5
Remove the lid and continue to cook until most of the liquid has all evaporated, which will be approx. another 60 minutes.
6
To finish, place the mustard sauce onto the toast and then add the chutney, sprinkle over the grated cheese and then place under the grill to melt.
Prep Time
10 minutes (make the chutney in advance, this will take 2 hours)
Cook Time
10 minutes
Nutrition Information
Serves 2
For more Lactose free recipes from Tom Aitkens, click
HERE
.
Try these other great snack recipes:
Home Made Salt & Vinegar Soup
Mango Drop Scones
Pitta Pizzas
Avocado Cheese On Toast
Reveal is now on Google Plus! Join us here for the latest pictures, fashion and celebrity news!
Check out our gallery of delicious brunch recipes