Forget spending ages making your own dough, next time you fancy pizza - make these gorgeous pitta versions.
Simply pop the pittas in a toaster and add your favourite toppings before whacking in the oven. This particular recipe uses the likes of peppers, mushrooms and tomatoes for a fresh and tasty snack. Homemade and speedy – what's not to love?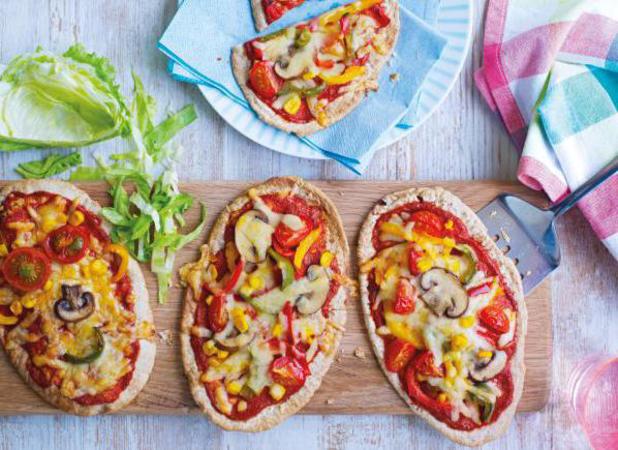 Ingredients
250g Sainsbury's frozen mixed peppers
4 Sainsbury's wholemeal pittas
175g Italian double concentrate tomato purée
200g closed cup white mushrooms brushed clean and sliced
125g medium grated British Cheddar
100g drained tinned sweetcorn kernels
½ x 335g pack cherry tomatoes
½ x iceberg lettuce, shredded
Method
1
Set aside the frozen mixed peppers for 1 hour to defrost, then pat dry with kitchen paper.
2
Preheat the oven to 200°C, fan 180°C, gas 6.
3
Pop the pittas in a toaster for a minute then let cool. Using a knife, cut the lightly toasted pittas in half horizontally and put on a large baking tray, cut-side down. Spread the tomato purée over the pitta halves, then top with the mushrooms, Cheddar, sweetcorn, tomatoes and defrosted peppers.
4
Cook in the oven for 10-12 minutes, until the cheese is melted and bubbling. Serve two pitta halves per person, topped with the shredded iceberg lettuce.
Prep Time
10 minutes, plus 1 hour defrosting time
Cook Time
10 - 12 minutes
Nutrition Information
Serves 4
More speedy recipes to try:
Quick Recipe For Steak & Peppercorn Sauce
Speedy Creamy Mushroom & Chicken Spaghetti
Boiled Egg With Cheese Soldiers
Thai Chicken Skewers