Could there be a more comforting meal than sausages and mash? We think not!
As the months get that bit chillier, we suggest making this really gorgeous bangers and mash dinner courtesy of celeb chef Jo Pratt. Full of flavour, it pairs sticky sausages with yummy smoky mash for a fab family feast.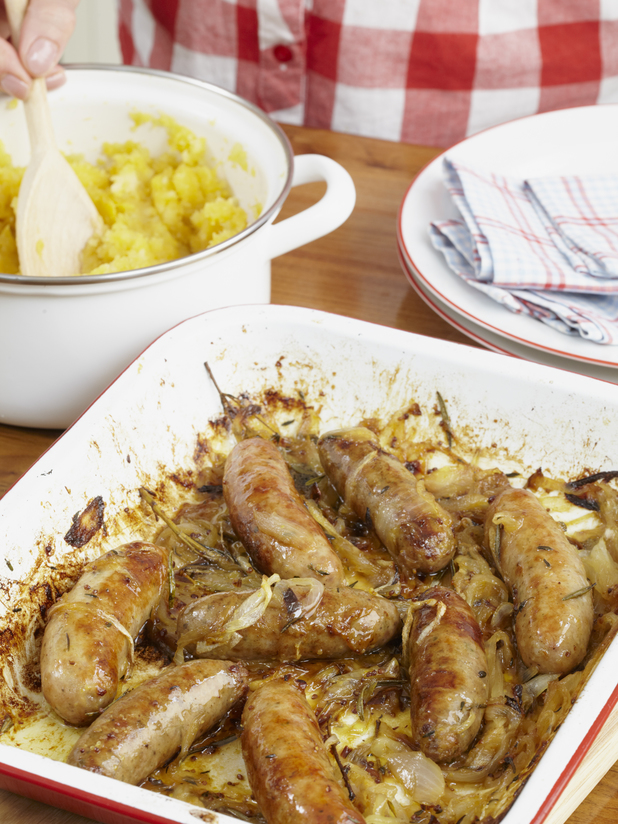 Ingredients
For the sausages and onions:
20g Gold from Flora
8 good-quality, thick pork sausages
3 onions, peeled and sliced
A few sprigs of thyme, sage and/or rosemary
2 tablespoon maple syrup
1 tablespoon wholegrain mustard, (optional)
1 tablespoon fresh orange juice
For the mash:
900g-1kg mixed root vegetables (such as parsnip, swede, sweet potato, potatoes and carrot, peeled and cut into chunks)
20g Gold from Flora
½ -1 teaspoon smoked Paprika
For the serving suggestion:
125g fresh or frozen peas
125g green beans, halved
150g Tenderstem broccoli, cut into bite-size pieces
1 knob of Gold from Flora
Method
1
Preheat the oven to 200°C/180°C fan/gas 6.
2
To cook the sausages and onions, heat a large roasting tray on the hob and add 15g of butter. Once melted, add the sausages and lightly brown all over.
3
Push to one side, melt the remaining half of butter in the empty side of the baking tray and scatter in the onions and herbs. Toss to coat in the melted butter then spread over the base of the whole tray and sit the sausages on top.
4
Season with pepper, and then place in the oven for 35-45 minutes, turning the sausages occasionally and moving the onion around to prevent it from sticking. Once cooked the onions will be a lovely golden colour.
5
Meanwhile, put the root vegetables in a large saucepan of salted water and bring to the boil. Cook the vegetables until they are tender (about 20 minutes) and then drain well.
6
Return to the pan and allow the steam to evaporate for a minute before mashing with the butter, ½ tsp smoked paprika, salt and freshly ground black pepper. Add more smoked paprika for a stronger flavour.
7
Once the sausages and onions are cooked, mix together the maple syrup, wholegrain mustard and orange juice. Pour over the sausages, shake to coat and return to the oven for 5 minutes until sticky.
8
Serve the sticky sausages with the golden onions and spoonfuls of the smoky mash.
Prep Time
15 minutes
Cook Time
45 - 50 minutes
Nutrition Information
Serves 4
Home Made Macaroni Cheese
Sausages, Irish Colcannon & Gravy
Pickled Onions & Pork Hotpot
Chocolate Bread & Butter Pudding
Reveal is now on Google Plus! Join us here for the latest pictures, fashion and celebrity news!