Add a kick of spice to your baked potatoes with this great Mexican inspired recipe from TV chef Jo Pratt.
This is a great recipe for a family weekend treat as these jacket potatoes contain a whole array of exciting ingredients such as bacon, chilli and jalapenos. Get some spice in your life!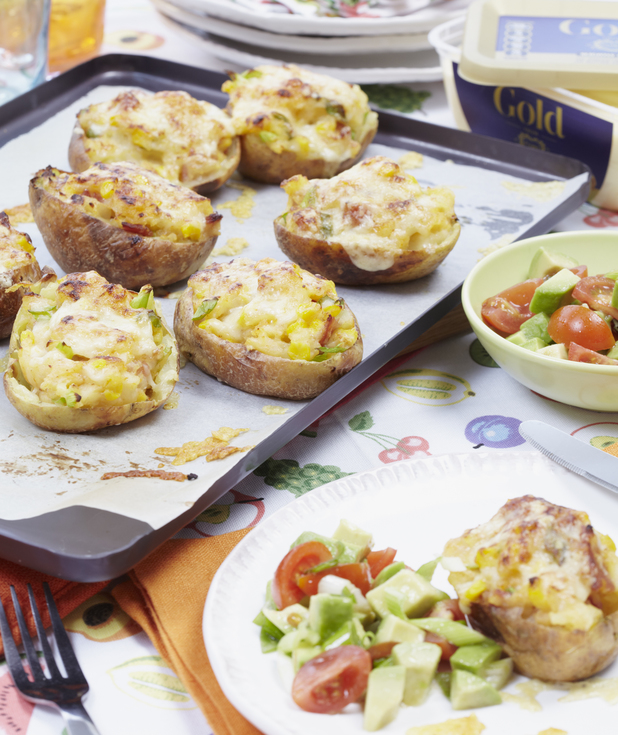 Ingredients
For the baked potatoes:
4 baking potatoes
4 rashers smoked back bacon
25g Gold from Flora
100g mature cheddar cheese, grated
100g cooked sweet corn
4 spring onions, chopped
½ -1 teaspoon mild chilli powder or paprika
For the serving suggestion:
½ teaspoon ground cinnamon
Guacamole
1 sliced green jalapeno pepper
For the salsa:
2 ripe avocados peeled and cut into 1cm dice
100g cherry tomatoes, quartered
4 spring onions, chopped
Juice of ½ lime
1 tablespoon olive oil
Method
1
Preheat the oven to 220C/200°C fan/gas 7. Prick the potatoes several times with a fork and place in the oven for 45-60 minutes they are cooked through and have crisp skins.
2
When the potatoes are near the end of cooking, put the bacon on a wire rack over a baking tray and put in the oven to cook for 10-12 minutes until golden. Remove and cut into small pieces.
3
When the potatoes are cooked, switch the oven to the grill and set at high.
4
Cut the potatoes in half and scoop out the potato flesh into a large bowl. Add the butter and mash with a fork. Gently mix in the bacon pieces, half of the cheese, sweetcorn, spring onions, chilli powder and, for an interesting variation, cinnamon. Spoon back into the potato skins and scatter over the remaining cheese.
5
Sit the filled potatoes on a baking sheet and put under the hot grill for about 5 minutes until the cheese has melted.
6
This dish is delicious if served with an avocado salsa. To make the salsa, simply mix everything together and season with a little salt and freshly ground black pepper.
Prep Time
15 minutes
Cook Time
50 minutes - 1 hour, 5 minutes
Nutrition Information
Serves 4
More speedy supper recipes:
Quick Steak & Peppercirn Sauce
Chilli Beef Stir Fry
Creamy Mushroom & Chicken Spaghetti
Beef Stew With Garlic Bread Topping
Reveal is now on Google Plus! Join us here for the latest pictures, fashion and celebrity news!
Love spicy food? Check out our gallery of recipes with some extra bite!