How cute are these little granola yoghurt pots? If they don't get you up in the morning, we don't know what will!
They are the creation of nutritionist
Dr Joan Ransley
who teamed up with the organisers of
Love Your Gut Week
to devise a series of delicious tummy-friendly recipes for those who suffer with sensitive stomachs and digestive ailments.
Packed with crunchy granola and fresh fruit, this delicious breakfast uses lactose free yoghurt and rolled oats for a breakfast that's kind to your digestive system. Why not try giving it a go this week?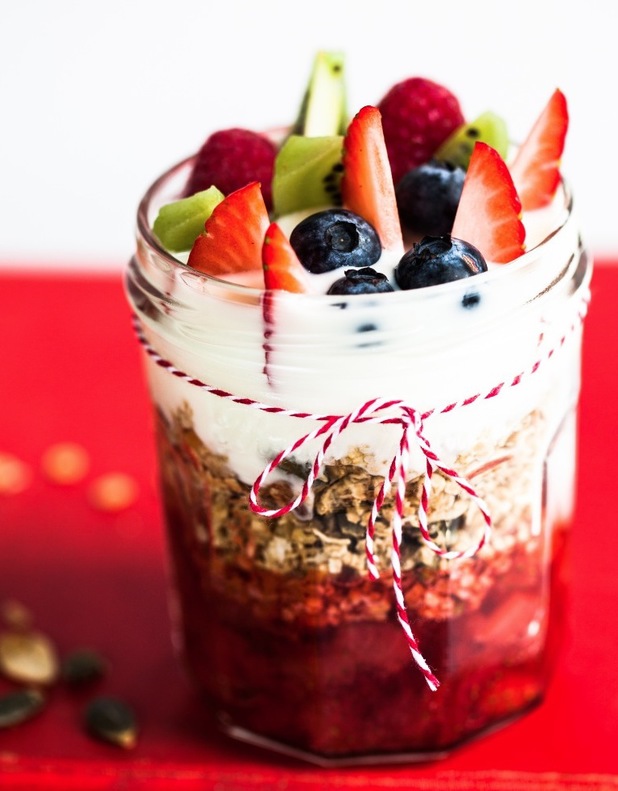 Ingredients
For the granola:
140g rolled oats
20g flaked almonds
20g walnuts
20g pumpkin seeds
1 tablespoon flax seeds
1 tablespoon desiccated coconut
4 tablespoons maple syrup
2 tablespoons mild flavoured vegetable oil such as rapeseed oil
1 teaspoon vanilla essence
For the strawberry compote:
150g strawberries (frozen are fine)
35g caster sugar
1 tablespoon water
1 teaspoon lemon juice
To serve:
lactose free yogurt
100g mixed fruit e.g. blueberries, strawberries, raspberries and kiwi fruit
Method
1
Preheat the oven to 200C/Gas mark 6. Place the rolled oats, nuts and seeds in one bowl.
2
In another bowl whisk together the maple syrup, vegetable oil and vanilla essence. Pour the maple syrup mix over the oats, nuts and seeds and mix together with your hands making sure the oats are well covered with the maple syrup.
3
Spread the oats, nuts and seed mixture on a baking tray and bake in the oven for 15 minutes. Half way through the cooking time open the oven door and stir the granola and check it is not scorching in one place. Continue cooking the granola until it just turning golden brown.
4
For the compote: rinse the strawberries, remove the green calyx and roughly chop them. Place the strawberries in a saucepan with the sugar, water and lemon juice and cook gently for 10 minutes. They should be soft and well cooked. Allow to the strawberries to cool. Taste and adjust the seasoning with a touch of lemon juice.
5
To assemble the granola pots: place a tablespoon of strawberry compote in the bottom of a glass serving dish, followed by a sprinkling of granola and top with lactose free yogurt and a selection of chopped fruit i.e. blueberries, strawberries, raspberries, kiwi.
Prep Time
10 minutes
Cook Time
15 minutes
Nutrition Information
Serves 6
More fab breakfast and brunch ideas:
Copyright: Farmhouse Breakfast Week
Reveal is now on Google Plus! Join us here for the latest pictures, fashion and celebrity news!