Beef burgers move over, we've got a new barbecue favourite...salmon burgers!
Simple to make and a healthier option to your usual sausages and ribs, it involves combining salmon with the likes of mustard, horseradish and anchovies. These fresh fish treats are then served in pitta pockets with a Greek yoghurt and cucumber dip for a delightful summer dish.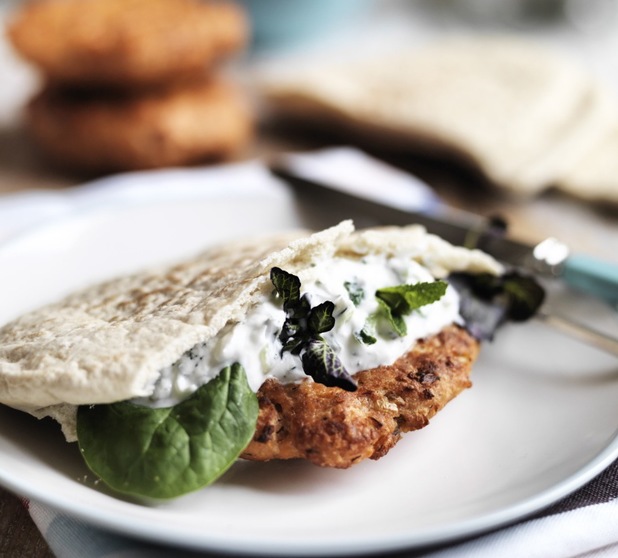 Ingredients
800g Norwegian salmon, cut into bite-size chunks
500ml Greek yoghurt
1 tablespoon of mustard
1 tablespoon of horseradish sauce
2 anchovies
Zest of 1 lemon
1 handful of breadcrumbs
2 tablespoons of spring onion
1 teaspoon of capers
1 teaspoon chilli flakes or 1 small green chilli sliced
Salt & pepper
1 bunch of dill, finely chopped
1 bunch of mint, finely chopped
½ cucumber, deseeded and shredded
Pita breads
Salad to accompany
Method
1
In a blender process ¼ of the salmon along with the mustard, horseradish, anchovies and lemon zest until it's a smooth paste.
2
Add the rest of the salmon, along with the breadcrumbs, spring onion, capers and chilli. Season to taste.
3
Pulse together until the mixture is even, but be careful not to over blend the mixture – the salmon flakes should still be about ½ cm in size. Shape the salmon into patties and chill for at least 30 minutes and no more than 3-4 hours.
4
If barbecuing the burgers it's easiest to control the cooking time by placing them in a barbecue flip 'n' easy basket so they can be turned at the same time.
5
Alternatively, they can be grilled.Brush the oven or barbeque grill with a little oil to prevent the salmon burgers from sticking. Remember, get the embers going and wait until they go ash grey before barbecuing – avoiding an open flame is vital in order to avoid the salmon oil spitting and creating excessive smoke. Grill until golden brown on each side and serve while hot.
6
Mix the Greek yoghurt with the herbs and cucumber and serve with the burger in the pitta breads. A salad is optional but makes a good palate cleanser for these delicious salmon burgers.
Prep Time
1 hour
Cook Time
20 minutes
Nutrition Information
Serves 6
Recipe courtesy Norwegian Seafood Council.

More delicious summer recipes:



Copyright: Pam Lloyd



Reveal is now on Google Plus! Join us here for the latest pictures, fashion and celebrity news!