Sometimes you just can't beat a simple serving of warming soup and with so many different flavours, the variety is endless!
This particular version was created by celebrity chef
Michael Caines
and is ideal when you want a healthy and nutritious meal. It takes tonnes of yummy veggies and herbs to make a soup packed with flavour.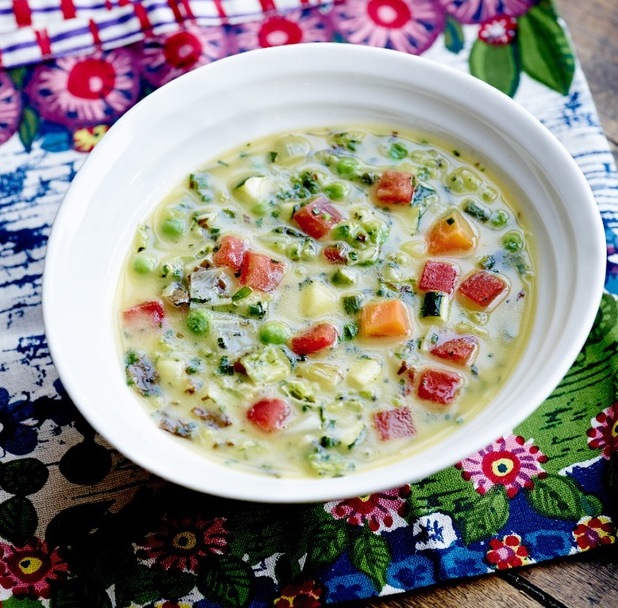 Ingredients
20g shallots finely chopped
35g leeks (10mm dice)
50g carrots (10mm dice)
50g courgette (10mm dice)
50g celeriac (10mm dice)
50g cabbage (10mm dice)
50g peas
50g French beans
50g tomato, blanched and seeded (10mm dice)
50ml white wine
500ml water
500ml chicken stock (optional)
12 basil leaves, chopped roughly
5g sorrel, chopped roughly
5g chervil, chopped roughly
5g chives, chopped
100g cream
150g unsalted butter
Pinch of sugar
Salt/pepper
Method
1
Sweat the shallots, leeks, celeriac and carrot with 25g of the butter and a pinch of salt for five minutes, until transparent.
2
Add the white wine and boil until reduced to nothing, now add the water and chicken stock and bring to the boil.
3
Cook for about 10 minutes then add the courgettes, French beans, peas and cabbage and cook for a further 5 minutes.
4
Add the cream and whisk in the remaining butter and add the herbs and tomato. Season with salt, pepper and a pinch of sugar.
Cook Time
30 minutes
Nutrition Information
Serves 4 - 5
Recipe courtesy of Uniform Foodies
Check out these other great soup recipes:
Oriental Chicken Noodle Soup
Spicy Butternut Squash Soup
Creamy Celery Soup With Stilton Cheese
Chunky Bean Soup
Reveal is now on Google Plus! Join us here for the latest pictures, fashion and celebrity news!
Love soup? Check out our gallery of fab recipes