We're still clinging on to the last bit of summer and having as many barbies as possible before autumn kicks off.
And if you're still searching for that perfect BBQ recipe, look no further than these delicious chicken kebabs, which are marinated in a whole host of exciting spices and flavours, including garlic, honey and five spice.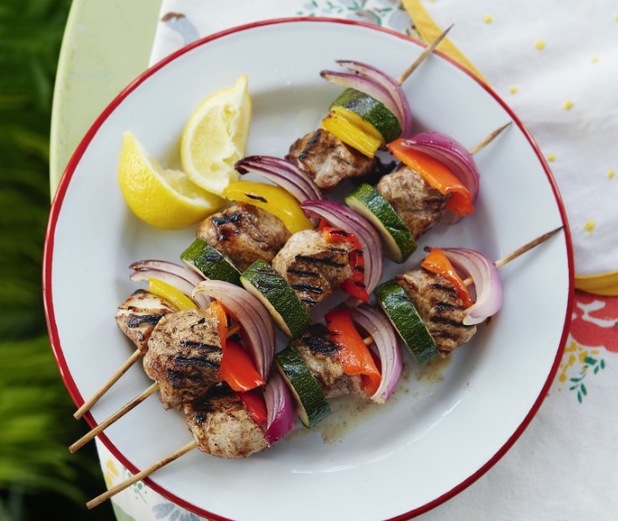 When using the barbie, it's extra important to be careful of good food hygiene.
The Food Standards Agency
even discovered that we are at an increased risk of food poisoning in the warmer months. They've kindly shared some useful tips to remember when firing up:


Always wash your hands thoroughly before preparing food, after touching raw meat and before eating.




Raw meats can contain harmful bacteria and should be separated from cooked and ready-to-eat food. You should also use separate tongs to handle cooked and uncooked meat.




Barbecued food may look well-cooked when it isn't. Make sure that burgers, sausages and chicken are properly cooked by cutting into the meat and checking that it is steaming hot all the way through, that none of it is pink and that any juices run clear. If you're barbecuing for lots of people, it's a good idea to cook the meat or poultry in the oven and then finish it off on the barbecue for flavour.


Ingredients
650g chicken breast fillets- cut into chunks (do not wash the chicken before cooking)
2 cloves of garlic
2 tbsp five spice
2 tbsp olive oil
2 tbsp clear honey
2 courgettes
1 sweet pepper
1 red onion
Method
1
Mix the garlic, five spice, oil and honey in a bowl and add the chicken.
2
Chill for 2 hours.
3
Thread chicken and vegetable pieces onto 8 kebab sticks, thoroughly washing your hands and any surfaces you have used afterwards.
4
Cook on a barbecue or in a preheated oven at 200oC fan/190oC/Gas 6 for 25-30mins. To check the chicken is cooked, cut into the thickest part of the meat and check that it is steaming hot with no pink meat and that the juices run clear.
Prep Time
20 minutes (plus marinating time)
Cook Time
30 minutes
Nutrition Information
Serves 4 - 6
Check out these other tasty BBQ recipes:
Copyright: Jack Daniels