If you love spice, you won't be able to resist this dreamy dinner – butternut squash, ginger and coconut laksa.
Laksa is a gorgeous dish and combination of Chinese and Malaysian cuisine. Brimming with herbs and spices, it packs in the flavour for a truly exciting meal. Plus it'sversatile – add tofu if you're a veggie, chuck in chicken if you like meat - or go for prawns if seafood is your preference. This recipe makes the most of seasonal butternut squash, too.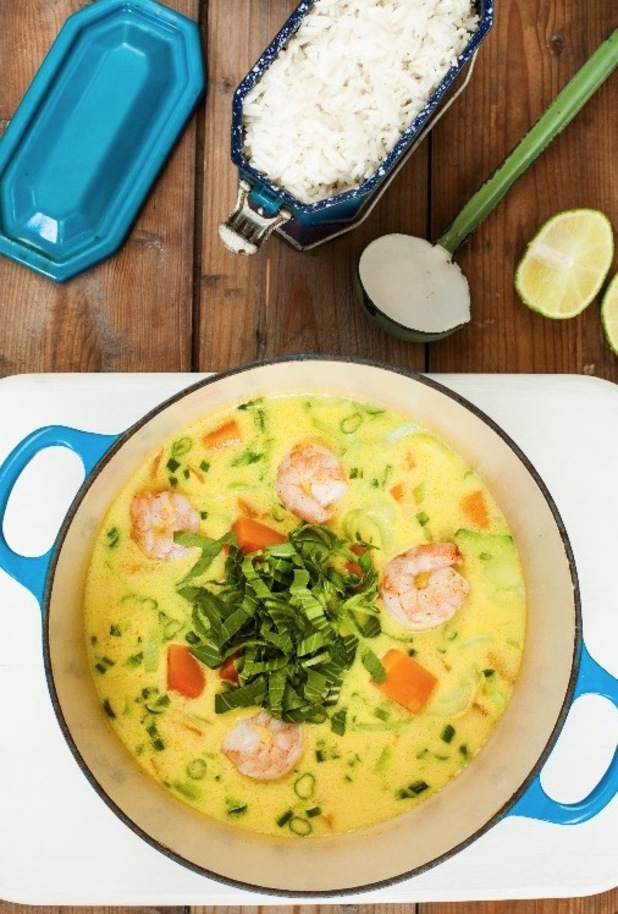 Ingredients
½ small butternut squash
Rapeseed oil – a little
200ml coconut milk – reduced fat is fine
200ml water
Pinch of vegetable stock (optional)
3 tablespoons ginger, grated
Salt and pepper to taste
Green leaves of 3 spring onions, chopped into rings
100g water chestnuts
150g raw tiger prawns, or sliced chicken breast, or tofu cubes
½ lime – juice and zest
1 head of pak choi, sliced
1 tablespoon chopped coriander
Method
1
Peel the squash and cut the flesh into small dice, roughly 2cm square. Warm a little oil in a large saucepan, add the cubes of squash and cook until lightly browned.
2
Pour in the coconut milk, water and pinch of stock if using and bring to the boil. Reduce the broth to a simmer and add the grated ginger and spring onion leaves.
3
Continue cooking gently until the squash is tender. Add raw tiger prawns, chicken or tofu followed by the sliced pak choi, water chesnuts and cook briskly for five minutes.
4
Finish the laksa by adding the lime zest and juice followed by the chopped coriander. Adjust seasoning and serve in bowls with steamed rice.
Prep Time
10 minutes
Cook Time
15 minutes
Nutrition Information
Serves 2
This recipe is courtesy of Love Your Gut Week, which offers an array of recipes for sensitive stomachs, like this tasty laksa.Love fiery food? Check out these other recipes:
Spicy Lamb Tikkis
Masala Scrambled Eggs
Thai Green Chicken Curry
Spicy Prawn Tacos & Strawberry Salsa