If, like us, you've been inspired by the new series of the Great British Bake Off, here's a great recipe to get stuck into.
Just how impressive does this cake look? it's been created by one of last year's Great British Bake Off finalists,
Kimberley Wilson,
who has kindly shared her video tips on how to make it. Mary Berry, eat your heart out!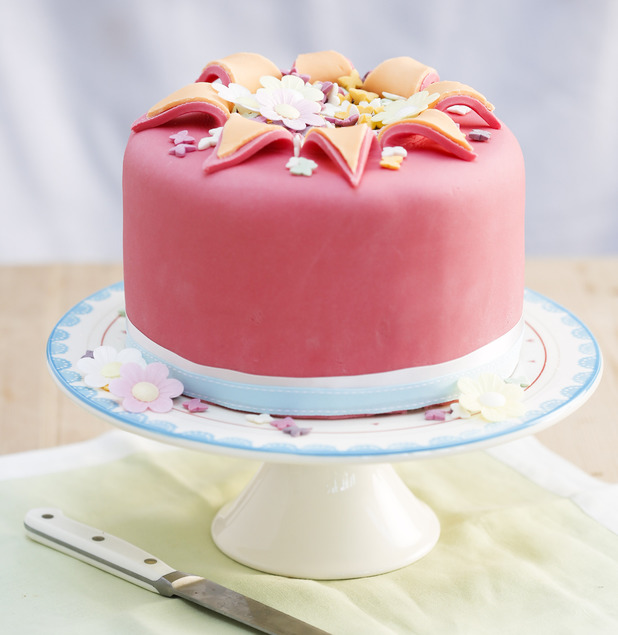 This orange and rose exploding cake looks as good as it tastes. We love the different flavours this cake offers, from fruity orange and almond, to sweet rose and rich buttercream. And it's even adorned with delicate butterflies as a finishing touch.
Ingredients
For the orange sponge:
225g self-raising flour
225g unsalted butter, very soft
225g golden caster sugar
3 large eggs
1 teaspoon of baking powder
Pinch of salt
Zest of 1 orange
85g ground almonds
1-2 tablespoons juice of 1 orange
1 tube of neon orange colour gel
For the rose sponge:
225g self-raising flour
225g unsalted butter (president) very soft
225g golden caster sugar
3 large eggs
1 teaspoon baking powder
Pinch of salt
85g ground almond
1-2 teaspooms Dr. Oetker Limited Edition Rose Flavour
1 tube of hot pink colour gel
For the buttercream:
150g unsalted butter
400g icing sugar
A few drops rosewater
For the decoration:
454g ready to roll marzipan
700g ready to roll icing
1 pack of Dr. Oetker sugar butterflies
1 tube of pink colour gel
1 tube of orange colour gel
Ribbon (optional)
Method
1
Heat oven to 160C, grease and line the base of 4 x 20cm/8" non stick sandwich tins
2
Place the eggs, butter, sugar, flour, orange zest and orange colour gel into a large bowl. Mix either by hand or in a stand mixer until combined (being careful not to overmix/overwork).
3
Divide the mixture between two lined tins, level off with the back of a spoon or a spatula. Repeat with the ingredients for the rose cake.
4
Bake for 25-30 minutes until golden and springing back and cool completely on a cooling rack.
5
Meanwhile make the buttercream by mixing the ingredients together in a medium bowl.
6
To create the cake: Place a rose cake layer on a plate or cake board, use a small amount of buttercream underneath to keep the cake in place. Spread three tablespoons of buttercream over the top and cover with an orange layer. Repeat until all four layers are stacked on top of each other.
7
Crumb coat the cake with buttercream (reserving two tablespoons for later)
8
Knead the marzipan into a smooth ball and then roll out, on a surface dusted with icing sugar, to about 3-4mm thick. Gently lift the marzipan and cover the cake, smoothing all round as you go. Trim off the excess with a pizza cutter or sharp knife.
9
Using a 12cm plain pastry cutter or upturned bowl as a guide, cut out a circle of greaseproof paper and place this on the centre of the top of the cake (this will prevent the icing from sticking to the marzipan when you come to unfold it).
10
Colour 100g of the icing orange and roll out to 2-3mm thickness. Using the same cutter as above cut out a circle of the orange icing and place this over the circle of greaseproof paper. Retain the offcuts of icing for later. Wrap them in cling film to keep them from drying out.
11
Colour the remaining icing pink and roll out to 3-4 cm thickness. Brush cake with warmed apricot glaze to help the icing to adhere.
12
Carefully lift the pink icing and cover the cake. (Smooth and trim as above).
13
You should be able to see the outline of the circle of orange icing under the pink. Using a very sharp knife/craft knife cut a large cross through the centre of the two layers of icing to the outer edge of the orange layer. Then divide each segment again so that you have eight segments. Using the tip of the knife, lift and peel back the segments. Use the tip of the knife to lift and pull out the layer of paper that should now be exposed.
14
Add butter cream to stick the butterflies and serve with a ribbon.
Prep Time
1 hour, 20 minutes
Cook Time
30 minutes
Nutrition Information
Serves 16
Watch Kimberley make the cake here:Love baking? Check out these tasty recipes:
Copyright: Eggs For Soldiers
Reveal is now on Google Plus! Join us here for the latest pictures, fashion and celebrity news!