Inspired by the Great British Bake Off? Fancy yourself as the next Mary Berry?

Well, next time you're whipping up a baking treat, why not have a go at this recipe for piñata cake?
Perfect as a birthday surprise, this will deceive guests as a traditional cake, but once cut, a pile of sweets will pour out. Everyone is guaranteed to be impressed with this edible piñata – yum!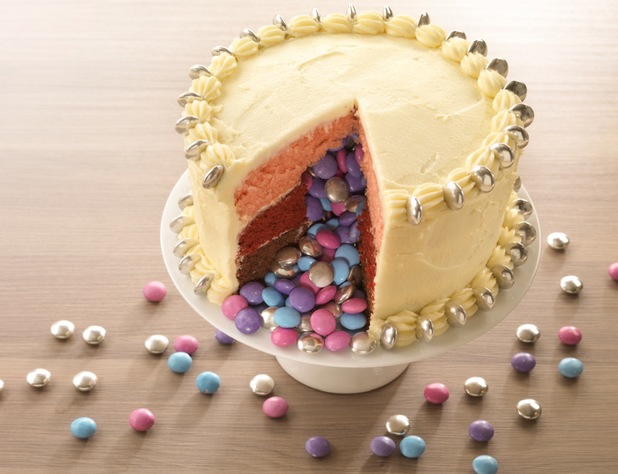 Ingredients
For the cakes:
225g (8 oz) self raising flour
1 level teaspoon baking powder
225g (8 oz) Stork tub
225g (8 oz) caster sugar
4 medium eggs
1 tablespoon cocoa powder, dissolved in 2 tablespoons water
Red paste colouring and 1 tablespoon cocoa powder
Pink gel food colouring
For the filling:
225g (8 oz) icing sugar
85g (3 oz) Stork
1-2 tablespoons milk
1 teaspoon vanilla extract
Decoration:
Sweets of your choice
Method
1
Sift the flour and baking powder into a large mixing bowl, add the remaining cake ingredients except for last 3 ingredients and beat with a wooden spoon until smooth.
2
Divide mix between 3 bowls and mix in cocoa powder and water to one bowl, red colouring and cocoa to the second and a few drops of pink colouring to the third. Spoon the mixtures into 3 greased and base lined 18cm (7 inch) cake tins.
3
Bake in a preheated oven at 180°C, 160°C fan oven, Gas 4 for 25-30 minutes or until cooked. Turn out on to a wire tray to cool.
4
Place all the icing ingredients in a bowl and mix well until smooth.
5
To create the cavity for the sweets, carefully cut out a round in the centre cake and if you wish the hole to be bigger, carve out slight hollows on the top of one cake and the base of the cake which will be the top.
6
Place a little icing on the base cake and add the middle cake. Fill the hole with the sweets and then ice the middle layer and finish with the top cake.
7
Use remaining icing to cover the cake. If wished, add either some food colouring or cocoa powder to a quarter of the icing and place in a icing bag fitted with a star nozzle. Place the coloured icing on one side of the bag and the plain on the rest so that when you pipe, you achieve a 2 tone look.
Prep Time
30 minutes
Cook Time
30 minutes
Nutrition Information
Serves 12
Love baking? Check out these great cake recipes:
Copyright: Eggs For Soldiers