Bored of the same old meals? Take some inspiration from this delightful Indian vegetarian recipe which combines ultra-healthy broccoli with delish Paneer cheese.
This involves combining poodla – spicy chickpea pancakes – and sambal, which is a lightly spiced and traditional Gujarati dish. While the cooling flavours of apple raita – a yoghurt-based accompaniment – completes this exciting and vibrant supper.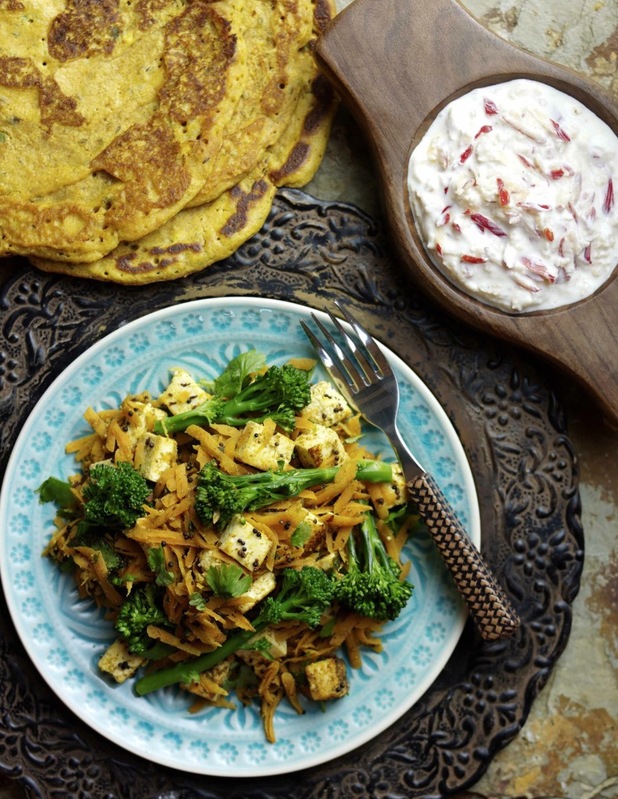 Ingredients
For the Sambal:
250g Tenderstem Broccoli
2 large carrots
225g paneer cheese
1 large lemon – zest and juice
2 tablespoons vegetable or sunflower oil
1½ teaspoons small black mustard seeds
5-6 curry leaves
1½ teaspoons table salt
2 teaspoons cumin and coriander powder
2 teaspoons red chilli powder or chilli flakes
For the Raita:
1 Pink Lady apple
100g plain yoghurt
2 teaspoons crushed cumin seeds or ground cumin
1 teaspoon salt
For the Poodla:
150g chickpea flour – also known as gram flour
2 tablespoons fine semolina
150g plain yoghurt
2 teaspoons crushed ginger
1 finely chopped green chilli (optional)
1½ teaspoon salt
½ teaspoon turmeric powder
2 teaspoons cumin seeds
½ teaspoon bicarbonate of soda
3-4 sprigs fresh coriander, chopped
80ml-100ml warm water
Vegetable or sunflower oil for frying
Method
1
Steam the broccoli for 5 minutes and then transfer to a bowl of iced water. Grate the carrots, cut the paneer into 1cm cubes and set both aside. Zest and juice the lemon and set aside.
2
To make the poodla - mix all the ingredients together to make a batter – use a balloon whisk to get rid of any lumps of flour.
3
Heat a teaspoon of oil in a flat, preferably non-stick, frying pan. Ladle in a few tablespoons of the batter and then smooth over into a round with the back of the spoon.
4
Leave to cook for a few minutes until the edges start crisping up and the top looks dry in places and then flip over and cook the other side for a few minutes. They should be golden brown colour and have a few little holes in surface.
5
Repeat until you've used up all the batter. This should make 4 dinner plate-sized poodla.
6
When your poodla are ready, put the oil in the wok and add the mustard seeds. Place over a medium heat. When the seeds start to fizzle and pop add the curry leaves, quickly followed by the paneer.
7
Sauté the paneer for a minute or so until some of the edges start to brown. Pour over the lemon juice and then add the grated carrots and spices. Give it a good mix through to distribute the spices and then finally add the tenderstem and lemon zest. Gently stir to warm the tenderstem through. You can garnish with some chopped coriander.
8
To make the raita; cut, core and grate the apples. Pour over the yoghurt, cumin and salt and mix together well. Serve a good spoonful on the side of your sambal and poodla.
Prep Time
15 minutes, plus 30 minutes resting
Cook Time
30 minutes
Nutrition Information
Serves: 4
Tip: If you're short on time you can replace the poodla with ready made chappatis/tortillas or naan bread. Alternatively you can serve the sambal with rice.
Love spice? Check out the recipes with added kick in our gallery below
Reveal is now on Google Plus! Join us here for the latest pictures, fashion and celebrity news!