Just how pretty is this scrumptious cake? Especially the adorable flowers!
And it tastes just as good too – combining zesty lemon and elderflower together for a light summer treat. Impress your mates and make this one yourself – they won't believe it's not shop bought!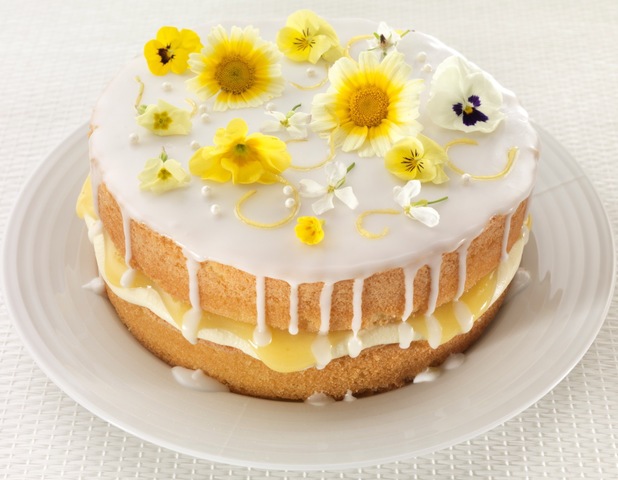 Ingredients
For the cake:
175g (6 oz) self raising flour
1/2 level teaspoon baking powder
75g (6 oz) Stork tub
175g (6 oz) caster sugar
3 medium eggs
1 tablespoon elderflower cordial
Finely grated zest of 1 lemon
For the syrup:
Juice of 1 lemon, strained
1 tablespoon elderflower cordial
55g (2 oz) caster sugar
For the filling:
115g (4 oz) icing sugar
40g (1 1/2 oz) Stork
1-2 teaspoons elderflower cordial
3-4 tablespoons lemon curd
5g (2 oz) icing sugar for glace icing
Method
1
Sift the flour and baking powder into a large mixing bowl, add the remaining cake ingredients and beat with a wooden spoon until smooth.
2
Spoon the mixture into two greased and base lined 20cm cake tins.
3
Bake in a preheated oven at 180°C, 160°C fan oven, Gas 4 for 30-40 minutes or until cooked. Turn out on to a wire tray.
4
Put the lemon juice, elderflower and sugar in a saucepan and heat gently until the sugar has dissolved.
5
Whilst cake is warm, make a few deep holes with a skewer and drizzle the syrup over so that it soaks into the cake.
6
Place the icing sugar, margarine and elderflower in a bowl and mix well until smooth. Split the cakes horizontally in half. Spread the base cake half with 1/3 of the icing and1/3 lemon curd. Top with the second cake and repeat layers until the icing and curd are used up and finishing with the final layer of cake on top.
7
Decorate with a thin glace icing made with the icing sugar and a little lemon juice and drizzled over the top of the cake. Finish with edible flowers if liked.
Cook Time
30 - 45 minutes
Nutrition Information
Makes 12 portions
Love baking? Try these lovely recipes:
Copyright: Eggs For Soldiers