Burgers always go down a treat but if you fancy a change to the usual beef variety - how about trying these tasty turkey burgers?
Pesto is added to the mince, creating a nice basil flavour, and they're served with a fiery red pepper relish. Whip up for a BBQ and impress your guests.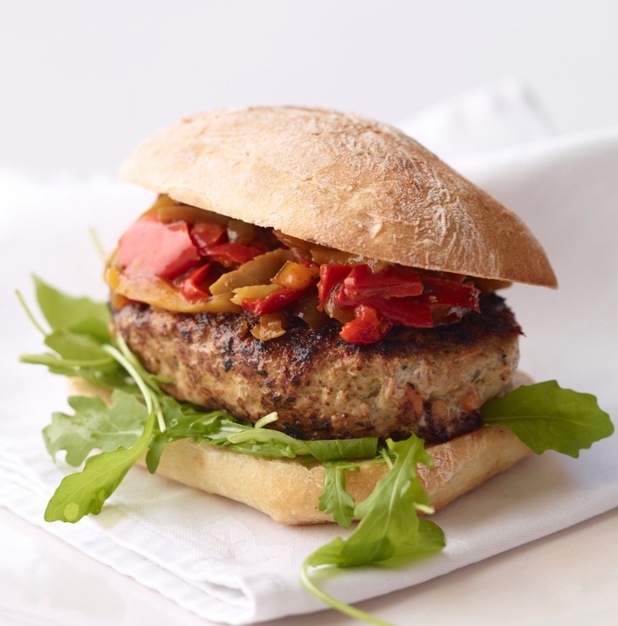 Ingredients
For the burgers:
450g (1lb) minced turkey
125g (4 1/2 oz) ready grated raw carrot (approx. 3 medium carrots, peeled and grated)
4 spring onions, chopped or snipped
45ml (3 tablespoons) green or red ready-made pesto
1 large egg, beaten
Freshly ground black pepper
10 pumps Fussels' rapeseed oil approx.
4 ciabatta rolls warm and split
Handful rocket leaves
For the relish:
8 pumps Fussels' Rapeseed oil
300g (10 1/2oz) frozen sliced mixed peppers
1 red chilli, chopped or a pinch of dried chilli
1 bay leaf
1 tablespoon sugar
2 cloves garlic, peeled and lightly crushed
Juice 1/2 lemon
Method
1
Start with the pepper relish. Heat the olive oil in a large pan. Add the frozen peppers, chilli, bay leaf, garlic, sugar and lemon juice.
2
Place a piece of wet, crushed greaseproof paper over the peppers and cover with a lid. Gently cook for 35-40 minutes or until the peppers are meltingly soft.
3
Remove the paper from the pan and increase the heat to reduce the liquid for approx. 3-4 minutes. Season. (The relish will keep in the fridge for several days).
4
Next, in large bowl, mix the turkey with the carrot, spring onions and pesto. Add the egg and season with freshly ground black pepper, stir well to combine really well.
5
Divide the turkey mixture into 4 and shape into large burgers. Chill in the refrigerator for 20 minutes.
6
Heat the oil in a large non-stick frying pan, cook burgers for approx. 7-8 minutes each side on a medium heat or until golden and cooked through.
7
Serve in ciabatta rolls with crisp rocket leaves and a good dollop of the pepper relish.
Prep Time
Burgers: 40 minutes, Relish: 5-10 minutes
Cook Time
Burgers: 20 minutes, Relish: 40 minutes
Nutrition Information
Serves 4
Check out these other tasty BBQ recipes:
Copyright: Jack Daniels
Recipe courtesy of Fussels and the Lesley Waters Cookery School