We all love a curry - so much so, that Indian food has become one of our favourite cuisines here in the UK. But it's so hard to cook at home, right?
Wrong!
All you need is some expert advice and a good recipe and you can recreate your fave curry house dishes at home and impress your guests.
Here's a great recipe to start with -
Lamb Kebab Tikkis
- which is in the new cookbook
Beyond Brilliant
from Dipna Anand.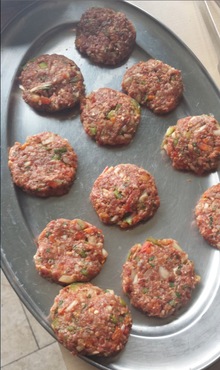 The Anand family have had their restaurant,
Brilliant, in London's Southall
for 40 years and their fans include top TV chefs Heston Blumenthal and Gordon Ramsay.
The famously grouchy Gordon turned up at Brilliant to learn how to cook 'proper, authentic' Indian food, for one of his early TV shows, Cookalong Live.
He became such a fan he returned to feature Brilliant in Ramsay's Best Restaurant.
I was offered the chance to follow in Gordon's footsteps, as Brilliant now runs
Indian cookery courses.
For a set fee you just turn up and cook along, under the expert tutelage of Dipna, her father Gulu and the restaurant's other talented chefs.
I went on the Tikka Fantasy course, which involved making these Lamb Tikkis (kebab mix meat, shaped into a patty or burger) pictured here on the right.
I like to think of these Lamb Tikkis as spicy lamb burgers and they are delicious in a wrap (I used my own hand-made chapati bread I also made on the course) with salad and raita.
The secret to getting this recipe right is chopping the vegetables extremely finely. Otherwise the burger won't stick together. The rest is pretty easy and straighforward, so give this a try and add spice to your life!
Ingredients
500g lamb mince
1 medium-sized onion, finely chopped
4 green finger chillies, finely chopped or made into a paste
1½ heaped tbsp. ginger/garlic paste
40g red peppers, finely chopped
40g green peppers, finely chopped
40g yellow peppers, finely chopped
4 tbsp fresh chopped coriander
80ml vegetable oil, for shallow frying
1½ tsp salt or to taste
Small bowl of water for moulding the Kebab Tikkis
Spices
1½ tsp garam masala
1½ tsp red chilli powder
1 tsp cumin powder
1 tsp coriander powder
Method
1
Put the mince lamb, peppers and onion into a bowl and use your hands to mix the ingredients together
2
Add the salt, ginger and garlic, red chilli powder, green chillies, cumin powder, coriander powder, fresh coriander and garam masala to the mince. Mix together until ingredients are thoroughly combined together
3
To make the tikkis, split the mixture into 16 even balls, each weighing about 50g
4
Flatten out the ball using the palm of your hand, as if you are making mini burgers. Add water to help shape the patty until the kebab tikki is even all the way around, with a diameter of approximately 6-7cm. Lay the tikki out on a tray
5
Repeat this process for the remaining mince
6
Shallow fry the kebab tikkis in oil on a medium heat for about 5-6 minutes until brown on both sides and completely cooked on the inside. Keep turning them to cook both sides. You can also cook them on your barbeque, too.
Nutrition Information
Makes approximately 16 tikkis
Dipna's tip
: Chop the onions and mixed peppers in the dish finely so that they do not seep out of the tikkis when being moulded and then shallow fried.
Reveal is now on Google Plus! Join us here for the latest pictures, fashion and celebrity news!
Love spicy food? Check out our recipes below...