Brandy snaps are a classic retro dessert - why not try making your own this summer for a nostalgic treat?
Follow these easy steps to make your very own snaps and serve with an array of fresh berries and generous dollop of ice cream. Yum!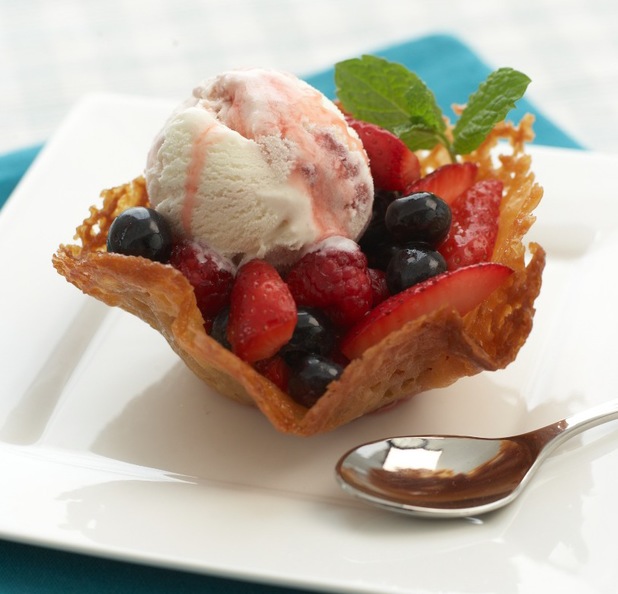 Ingredients
For the snaps:
110g sugar
110g butter
110g golden syrup
110g flour, sifted
Juice of 1 lemon
Pinch of ground ginger
For the berry salad:
200g raspberries
200g blueberries
400g strawberries
50g sugar
Juice of 1 lemon
Fresh mint leaves
1 tub of Kelly's of Cornwall Strawberries & Cream Ice Cream
Method
1
Hull and and quarter the strawberries and place in a serving bowl with the other fruits.
2
Make a quick syrup by melting the sugar, lemon juice with 2 to 3 tablespoons of water. Once the sugar is melted, set aside and leave to cool. Once cool, pour over the fruits and leave to rest for at least an hour.
3
Now make the brandy snap cups. Preheat oven to 190oC. Line a large baking sheet with greaseproof paper.
4
Melt the sugar, butter and syrup together. Remove from the heat and add the flour.
5
Add the ginger and the lemon juice. Place a teaspoon of the mixture onto the baking sheet, leaving room for the mixture to spread - you may need to make two batches.
6
Bake for around 5 or 6 minutes or until they are golden brown.
7
Remove from the oven and when cool enough to handle, scoop each biscuit up with a knife and lightly press inside a small cup to shape, remove and place on a cooling rack, repeat for each brandy snap cup.
8
To serve, place a brandy snap cup on a plate, fill with fruit, add a scoop of ice cream and spoon over a litte juice. Decorate with fresh mint leaves.
Prep Time
70 minutes
Cook Time
5 - 6 minutes
Nutrition Information
Serves 6
More stunning summer desserts to make:
Zesty Lemon & Summer Fruit Roulade
Pretty Peach Cupcakes
Frozen Yogurt Cups
Mini Rainbow Jellies
Check out our gallery of super summer recipes