Forget your classic British cheesecake; we've got a recipe for an exciting Japanese version!
This oriental dessert layers the likes of tofu and citrus juice, with digestive biscuits and soft cheese. Layer these sweet treats into empty jam jars for a cute picnic addition or summer party pudding.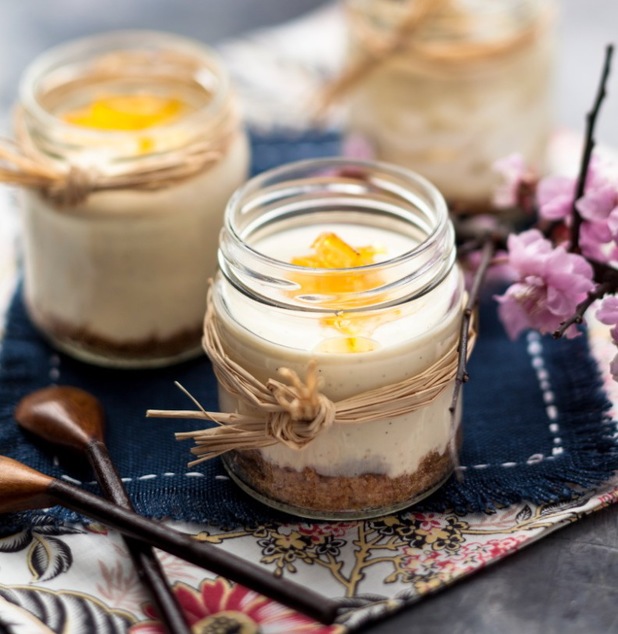 Ingredients
90g digestive biscuits
30g melted butter
40ml Yutaka Yuzu Citrus Seasoning or yuzu juice
2 leaves gelatine
175g tofu
150g soft cheese
100ml double cream
50g caster sugar
30g marmalade (plus extra for topping)
1/2 stick vanilla pod, halved length way with the seeds scraped out
Method
1
To make the base, put the digestive biscuits in a food processor and blend to make crumbs. Melt the butter in a bowl over boiling water in a saucepan and stir in the biscuit crumbs until mixed together. Place into the prepared jar and press down firmly to create an even base.
2
To make the cheesecake, soak the gelatin leaves in cold water for 3 minutes. Then, squeeze the water and place in a small saucepan with the yuzu citrus seasoning or yuzu juice. Heat on low to melt the gelatine, being careful not to boil it.
3
Add the gelatine mixture, tofu, cream cheese, double cream, sugar, marmalade, and vanilla seeds to a food processor and mix until smooth.
4
Spoon the cheesecake mixture into the jars and remove any air from the jars by tapping on a table. Refrigerate for few hours to set.
5
To serve, top with the rest of the marmalade on top.
Prep Time
15 minutes (plus 2 - 3 hours chilling time)
Nutrition Information
Makes enough for 5 180ml jars
Check out these other great cake recipes:
Copyright: Eggs For Soldiers