How cute are these tropical rum jellies? They're really impressive looking and so easy to make!
Caribbean Food Week
starts todayand these are a brilliant way to celebrate. The jellies instantly take us back to our childhood, but with a cheeky addition of rum – they're strictly for adults!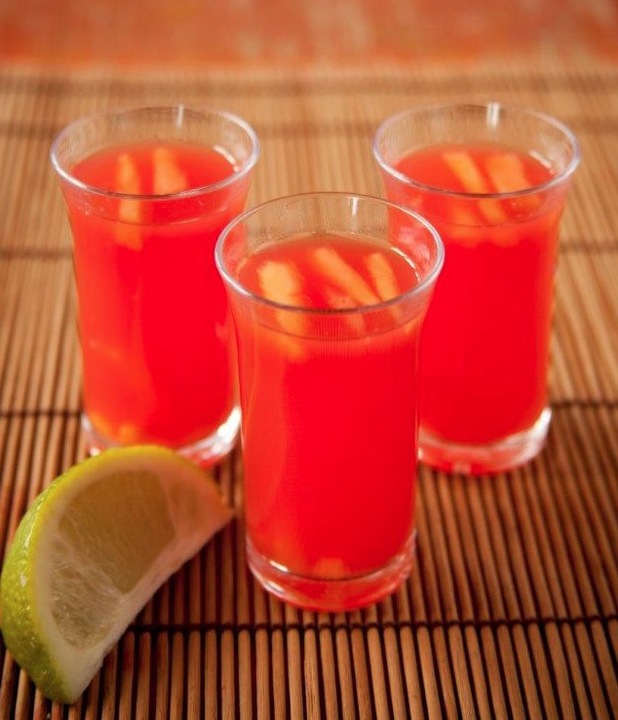 Ingredients
1 475ml bottle Grace Tropical Rhythms Fruit Punch
3 sachets (1 tablespoon) powdered gelatine
120ml dark Caribbean rum
16 teaspoons diced tropical fruits of choice – try pineapple, mango, papaya or passion fruit
Method
1
In a saucepan, heat the fruit punch over a medium-high heat for 3 minutes then remove from the heat. Stir in the dark Caribbean rum and leave to cool.
2
Put 4 tablespoons of hot water in a bowl and stir in the gelatine. Leave to soak for 2-3 minutes and then place over a pan of simmering water and heat gently over a low heat until the gelatine is fully dissolved.
3
Leave to one side and once cooled, mix with the fruit punch mixture, whisking thoroughly, and then divide the mixture evenly into small dessert bowls or shot glasses.
4
Place in the fridge to cool and for the jellies to set. Once set, top with chopped pieces of your favourite tropical fruits and serve.
Prep Time
20 minutes
Cook Time
3 - 4 hours (plus chilling time)
Nutrition Information
Serves 6
Cool down with these tasty tipples:
Frozen Cocktail: Summer Cup With Pimms
Authentic Caipirinha Cocktail
Pimms With A Pomegranate Twist
Make Your Own Iced Coffee
Reveal is now on Google Plus! Join us here for the latest pictures, fashion and celebrity news!
Check out more sizzling summer recipes in our gallery