How tasty does this open sandwich look? And it's so easy to make!
Appleslaw is key to this, which swaps the usual carrot for red apple, and trust us - it really works. Enjoy while watching the footie or whip up for a satisfying lunch.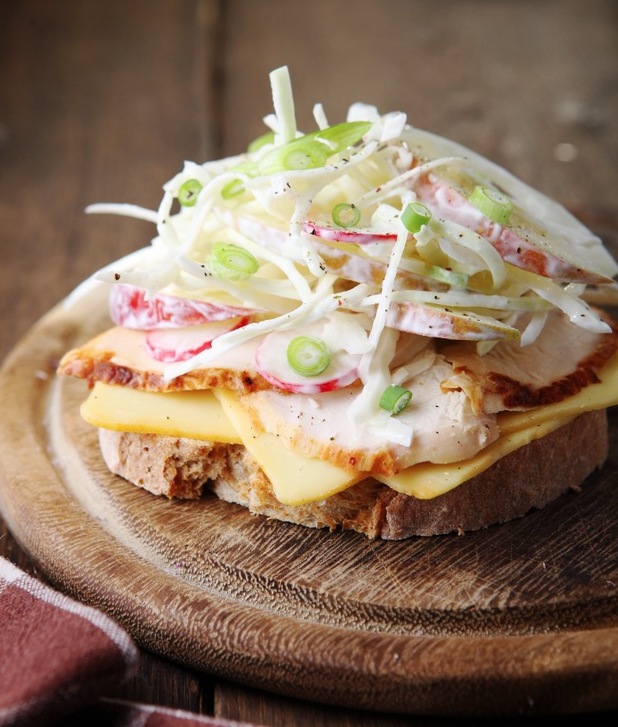 Ingredients
2 slice wholemeal or granary bread, buttered
4 Applewood cheese slices
2 slice of cooked chicken breast
For the appleslaw:
1 heaped tablespoon low fat Greek yoghurt
The juice of ½ small lemon
Freshly ground black pepper
1 small red apple, cored and thinly sliced
100g white cabbage, finely shredded
2-3 radish, thinly sliced
2 spring onions, cut into fine rings
Method
1
Begin by making the dressing; simply mix the yoghurt, lemon juice and pepper in a mixing bowl.
2
Add the remining ingredinets and mix to coat evenly.
3
To make the open sandwich, place the Applwood slices and chicken on the butter bread and top with appleslaw. Enjoy!
Nutrition Information
Serves 2
More great lunch recipes:
Shooter's Sandwich
Steak Sandwich With Chilli Butter
Mini Chicken & Apple Quesadillas
Avocado Cheese On Toast
Check out our gallery for more summer recipes