Fancy having your mates round for a cuppa and a cake – and raising cash for seriously ill kids at the same time?
Well, this Friday you can as part of the annual
Dreams Come True
event, a charity fundraiser for terminally and seriously ill children.
It's a great, simple idea that thousands of people around the country are set to do this Friday, 20 June. And they've kindly shared this amazing recipe for Chocolate Mocha Cake by
Great British Bake Off finalist Miranda Gore Browne
to give us a bit of inspiration!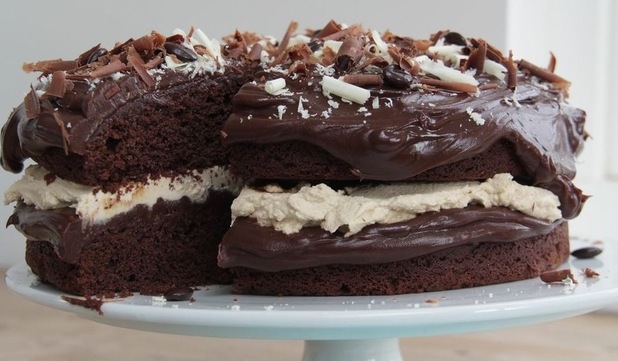 All you have to do is register at
dreamscometrue.uk.com/dreamtea
and whether you're having a group of friends round for a splendid feast or one mate round for a cuppa and a natter, then you get the chance to raise money for a really good cause.
The charity is asking for a donation – no matter how small – from participants that will help sick children fulfil one of their dreams. Please help by sharing/tweeting this page so we can spread the word to as many people about this great campaign.
Ingredients
For the cake
235g unsalted butter, softened
235g caster sugar
4 large eggs
2 tablespoons of semi skimmed milk
165g self raising flour
65g ground almonds
2 teaspoons of baking powder
60g cocoa
100g dark chocolate (I use Belgian or Bourneville)
1 tablespoon of instant coffee mixed with 1 tablespoon of boiling water
For the chocolate ganache
350g Bournville chocolate
350ml double cream
For the coffee cream
200ml double or whipping cream
50g icing sugar
1 tablespoon of coffee mixed with 1 tablespoon of boiling water
For the decoration
50g white chocolate
50g milk chocolate
Chocolate covered coffee beans
Method
First, make the ganache: break the chocolate for the ganache into a heatproof bowl, add the double cream and place over a pan of simmering water to melt.
Once the chocolate has started to melt, stir well to combine with the cream. Remove the bowl from the heat and stand in the kitchen to cool and firm up a little (not in the fridge)
Melt the chocolate for the cake and put to one side to cool a little
Line two 8inch (20cm) loose bottomed cake tins with baking paper and preheat the oven to 180 degrees.
Beat together the butter and sugar in a mixer or in a large mixing bowl with a wooden spoon – mix until pale and fluffy.
Break the eggs into a jug, beat with a fork then add to the butter and sugar mixture a little at a time, beat well after each addition.
Use a large metal spoon to gently fold in the flour, baking powder, cocoa and ground almonds.
Fold in the coffee and melted chocolate and gently mix until well combined.
Scrape the mixture into the two tins and smooth the tops to level.
Bake in the preheated oven for 20-25 minutes or until springy to touch and coming away from the sides of the tin.
Whip together the cream and icing sugar for the coffee cream until stiff peaks then fold in the coffee mixture. Keep in the fridge until you are ready to put the cake together.
Take the cakes out of the oven and leave in their tins to cool for at least ten minutes before turning out onto a cooling rack.
Once the cakes are completely cold, put one cake onto a pretty cake stand or cake plate, spread on a thick layer of ganache and a generous layer of the coffee cream.
Put the second cake on top and cover the top with the remaining ganache.
Grate or shave the chocolate on top.
Prep Time
One hour
Cook Time
25 minutes
Having a bake-off to raise cash? Check out these amazing cakes....