This is a delish recipe to get you through your World Cup watching and you still have time to whip these Brazilian-inspired BBQ Chicken Breast Wraps wtih Chilli Lime Sauce up tonight if you catch the shops before they close.
You'll need to marinate the chicken breasts for a couple of hours but once that's done, the rest is quick and easy.
In this recipe from
MasterChef
winner Dhruv Baker, the Brazilian BBQ chicken is served with samba rice and a chilli lime sauce for a truly satisfying wrap filling.
Serve to your guests once the footie action kicks off!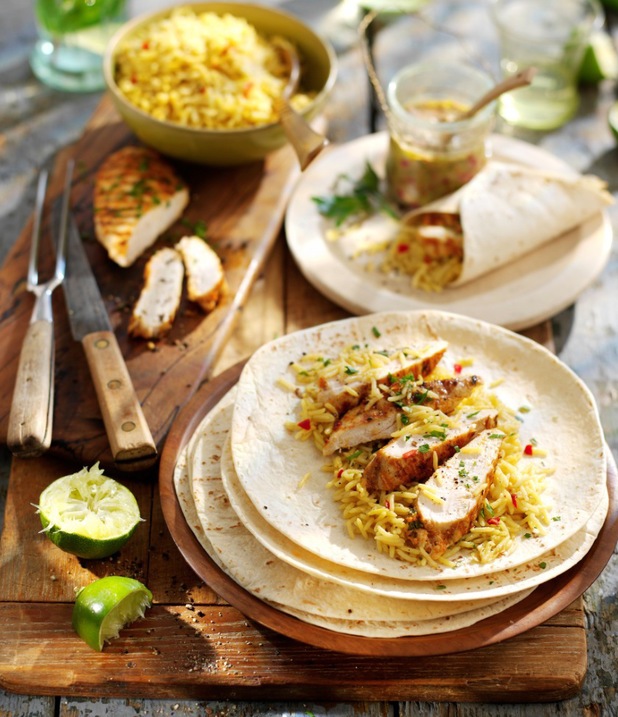 Ingredients
1 pack of Tilda® Brazilian Samba Rice
1 packet flour tortillas
4 chicken breasts
6 cloves garlic crushed
4cm piece ginger grated
2 large green or red chillies
1/2 teaspoons brown sugar
1 red onion finely chopped
1 lemon (juice only)
4 limes (juice only)
1 small bunch parsley
3 tablespoons light vegetable oil
1/2 teaspoon smoked paprika
4 tablespoon olive oil
Salt and pepper
5 sprigs fresh thyme
Method
1
Marinate the chicken breasts in half the crushed garlic, vegetable oil, ginger, lemon juice, paprika, thyme and salt and pepper. Overnight is best but a couple of hours will work fine.
2
To make the sauce, whizz the chillies, red onion, sugar, lime juice, olive oil and parsley together with a little salt and pepper.
3
Cook the chicken breasts on a BBQ or under the grill for 10-12 minutes until cooked through and set aside.
4
Heat the rice for 2 minutes as per the pack instructions. Slice the chicken breasts into 4-5 slices each.
5
To assemble, brush the tortillas with a little of the lime and chilli sauce. Spoon over 2-3 tablespoons of the rice. Lay the chicken slices on top, brush with a little more sauce, fold up and enjoy!
Prep Time
15 minutes (plus 2 hour marinating time)
Cook Time
15-20 minutes
Nutrition Information
Serves 4
Serve up these other great summer treats:
Smokey Barbecue Chicken Wings
Spicy Prawn Tacos & Strawberry Salsa
Sticky Hickory BBQ Sausages
Strawberry Daiquiri Cupcakes
There's more fabulous summer recipes in our gallery...