Nope, your eyes aren't deceiving you; this really is a recipe for Marmite cupcakes!
It's been created by the master cupcake bakers at London's Lola's Cupcakes for the legendary savoury spread - and we can confirm that half the Reveal office loved them while the others....well, weren't Marmite fans!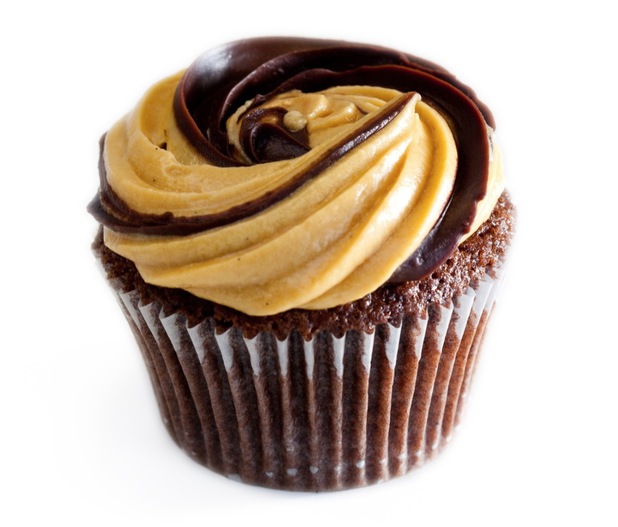 These official Marmite cupcakes are on sale until July 9 at Lola's Cupcakes, priced £2.75 each. The base consists of a chocolate sponge, which contains a salted caramel Marmite centre.
These sugary delights are then topped with a blend of Marmite buttercream and chocolate ganache for a truly unique taste.
Fancy having a go at making them at home? Just follow the steps below. We guess you'll either love 'em or hate 'em…let us know what you think!
Ingredients
Base:
100g dark/ bittersweet chocolate chopped
175g chopped butter
225g Caster Sugar
4 eggs
100g self raising flour
2 ½ tablespoons cocoa powder
Insert:
240g caramel condensed milk
80g Marmite
Or to make you own caramel condensed milk:
60ml cold water
165g caster Sugar
125ml double cream
80g Marmite
Frosting:
120g butter
500g icing Sugar
1 tablespoon milk
100g Marmite
Ganache:
300g dark chocolate
300g double cream
Method
Base:
1
Preheat the oven to 180oC/ 350F/ Gas mark 4.
2
Put the chocolate and the butter in a heat proof bowl over a pan of simmering water. Heat, stirring, until the chocolate melts and you have a smooth glossy mixture. Remove from heat and stir in the sugar. Leave to cool for 10 minutes.
3
Now beat with an electric hand mixer for 3 minutes. Add the eggs one at a time beating, for 10 seconds between each addition. Sift the flour and cocoa powder into the bowl and beat until blended.
4
Divide the mixture between the muffin cases. Bake in a preheated oven for 20-25 minutes or until well risen and a skewer inserted into the middle comes out clean. Remove from the oven and let them cool completely on a wire rack before decorating.
Insert:
Mix the condensed caramel and marmite together until fully incorporated.
Or to make you own caramel condensed milk:
1
Put the sugar and the water into a saucepan and put on a medium heat. Boil without stirring until it becomes a deep amber colour.
2
Brush down the sides of a pan with a brush dipped in water to prevent crystallisation.
3
Remove from the heat. Whisk in the cream slowly and carefully this may spit, stir in the Marmite. Leave to cool.
Make an insertion in the cupcake with an apple corer. Fill with the Marmite caramel.
Ganache:
1
Put the chocolate into a large bowl.
2
Heat the cream in a saucepan on a medium heat. Keep stirring until it starts to boil, then add it to the chocolate and stir until all the chocolate has melted and created an emulsion.
3
Leave to set for 2 or 3 hours in a cool environment.
Buttercream:
1
Beat the butter until light and fluffy. Slowly add the icing sugar and beat until it is fully combined and light and airy.
2
Carefully beat in the Marmite until it is all mixed in. Add the milk if it needs softening.
3
Place the buttercream and ganache in 2 separate piping bags and place in another piping bag with a star nozzle. Pipe a dual swirl onto the top of the cupcake.
Prep Time
40 minutes (plus 2-3 hours setting time)
Cook Time
25 minutes
Nutrition Information
Makes 12
More fab cake recipes to try:
Copyright: Eggs For Soldiers
Reveal is now on Google Plus! Join us here for the latest pictures, fashion and celebrity news!