Here at Reveal HQ, we're enjoying getting into the World Cup spirit with tasty Brazilian food.
This recipe shows you how to make chimichurri sauce, which is hugely popular in South America and uses the likes of chillies and garlic. It's combined with squid (or prawns if preferred) and samba rice to create an exotic supper.
Masterchef winner Dhruv Baker developed this recipe and proves how easy it is to put together…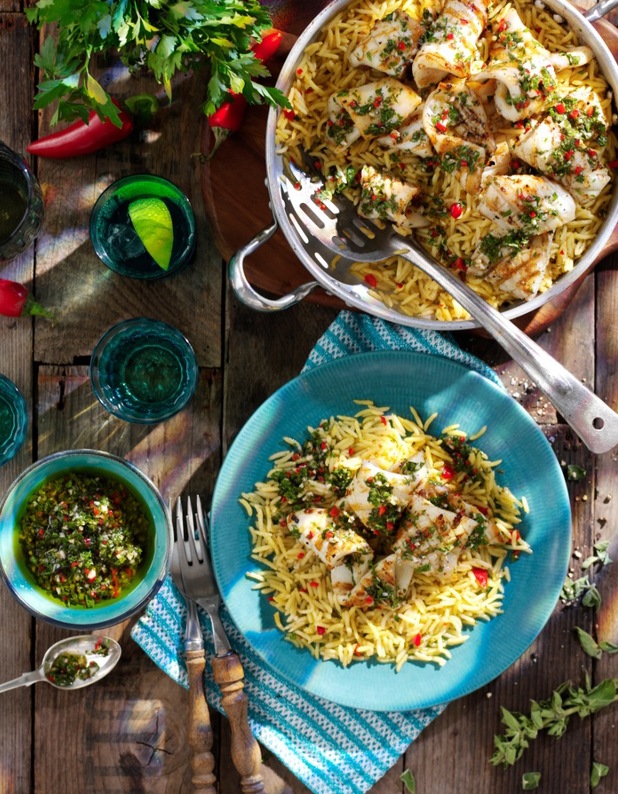 Ingredients
4 squid or prawns, if preferred (Ask your fishmonger to clean the squid for you)
2 tablespoons light olive oil
1 lemon
1 pinch black pepper
2 packs of Tilda Brazilian Samba Rice
For the chimichurri sauce:
2 red chillies deseeded and finely chopped
8 garlic cloves finely chopped
1 bunch flat leaf parsley finely chopped
1/2 bunch fresh oregano finely chopped
5 tablespoons red wine vinegar
5-6 tablespoons extra virgin olive oil
Splash of water (about 50 ml)
1 teaspoon chipotle paste (optional)
Salt and pepper to taste
Method
1
Mix together all the ingredients for the chimichurri sauce and set aside until needed.
2
Slice open the squid and using the tip of a very sharp knife make very shallow cuts on the inside of the squid (1-2 mm deep) about half a centimetre apart.
3
Cut the squid into 3-4 lengthways then cut those across in half. Stir through the olive oil and black pepper.
4
Heat a griddle pan until very hot, nearly smoking, and cook the squid for 2 minutes then squeeze over the lemon and set aside.
5
Heat the rice as per the cooking instructions; place the squid on top and spoon over the chimichurri before serving.
Prep Time
15 minutes
Cook Time
10 minutes
Nutrition Information
Serves 4
Tip: This is also delicious with large prawns or, for a change, you could serve the squid and the prawns together.
More great summer recipes:
Roasted Chicken With Yoghurt, Lemon Zest & Salad
Pulled Pork Buns With Chipotle Sauce
Greek Style Lamb & Halloumi Kebab
Spicy Prawn Tacos & Strawberry Salsa
Reveal is now on Google Plus! Join us here for the latest pictures, fashion and celebrity news!