You can't beat a juicy burger and while we love having one when we're eating out - they are so, so easy to make at home!
This simple recipe is super tasty and makes a change from the standard bacon and cheese toppings! Pineapple, eggs and beetroot are all piled in to the bun - along with the meat patties - for a burger with a twist.
Whip up for a treat on the barbie - friends and family are bound to be impressed.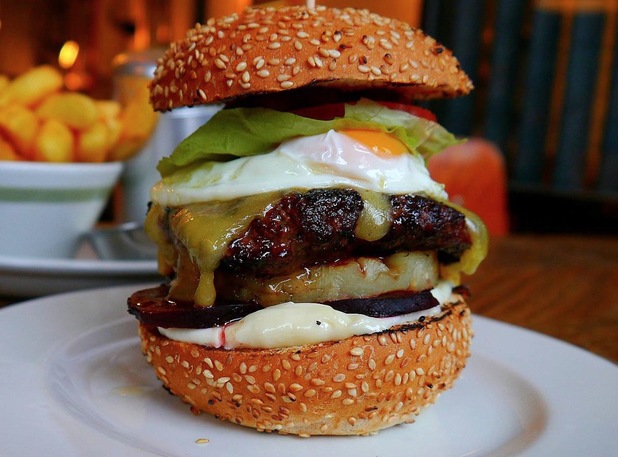 Ingredients
Mustard mayonnaise:
4-5 tablespoons of mayonnaise
1 teaspoon English mustard
Smokey ketchup:
100g good quality tomato ketchup
1/2 teaspoon sweet smoked paprika
1/2 teaspoon cayenne pepper
A few splashes of Worcestershire sauce
2x cooked beetroot - sliced into rounds £1 coin thickness
4x pineapple rings
4x eggs
4x slices of Montgomery Cheddar or similar
4x GBK burger patties
4x burger buns
Lettuce, tomato & thinly sliced red onion - optional
Method
1
Grill the pineapple rings on a barbecue or griddle pan until caramelised.
2
Cook the burgers. Once cooked, add the cheese to the burgers and melt under a hot grill – this also allows the meat to rest.
3
Meanwhile, fry the eggs, keeping the yolks runny.
4
Lightly toast the cut side of the buns on the barbecue or griddle pan.
5
Construct the burgers in the following order:
Bun base
Mustard mayo
Beetroot slices
Pineapple
Beef and cheese
Egg
Salad if using
Smoky ketchup spread on the toasted side of the bun top
Prep Time
15 minutes
Cook Time
7 minutes (for a pink burger)
Nutrition Information
Serves 4
Recipe courtesy of Gourmet Burger Kitchen
Serve your burger with one of these delish sides:
Step-By-Step Chips Recipe
Herby Roasted Potatoes
BBQ Roast Potatoes
Blood Orange, Fennel & Basil Salad
Reveal is now on Google Plus! Join us here for the latest pictures, fashion and celebrity news!
Check out more fabulous summer recipes below...