Sandwich week kicks off this Sunday (11 May) and we're getting ready to celebrate with this amazing Shooter's sandwich recipe.
This special sarnie was created in Edwardian times for posh folk to carry in their saddle bags and nibble on during hunting. It features a hollowed out loaf that's packed with layers of yummy ingredients.
This particular version uses tender steak, creamy blue cheese and fresh salad. Simply pack in and slice into wedges for a lunch with a difference.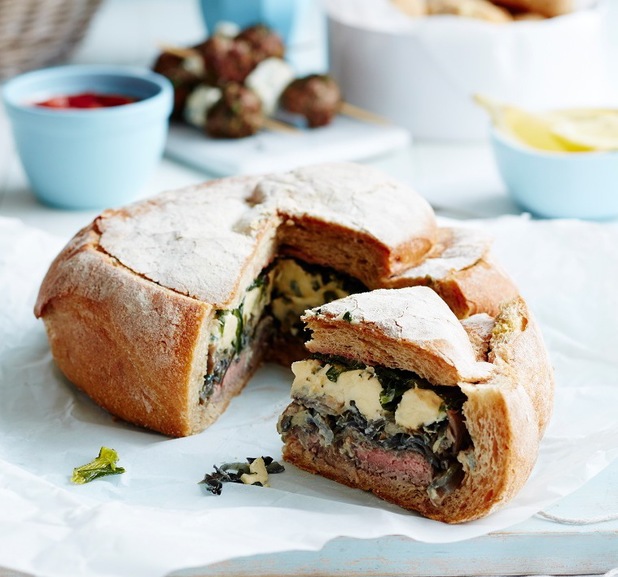 Ingredients
One round loaf of good, dense bread, ideally sourdough or semi sourdough
1 thick (inch or more) rump steak, sliced through the middle to create two thinner steaks
500g oyster mushrooms, ripped up
2 packs of Castello Creamy Blue
2 red onions, sliced thinly
Bunch of chard
Dijon mustard mixed into mayonnaise
Salt & Pepper
Method
1
Slice a lid off the top of the loaf and scoop out most of the bread inside, leaving a centimetre or so around the crusts
2
On a frying pan on a really high (smoking) heat, season then quickly (30 seconds each) fry the steaks on both sides to your taste and put straight in the loaf.
3
Meanwhile, season the red onions until nearly caramelised and add the oyster mushrooms, then cook until soft. Slice the cheese and place on top. Gently fry the chard (removing the stalks first) in some butter until wilted then place on top.
4
Smother the bread lid in the mustard and mayonnaise then place the lid back on.
5
Finally, wrap the whole thing up tightly with greaseproof paper and string and squash between two chopping boards, or even between heavy books or under sofa cushions, and leave unrefrigerated for approximately six hours.
6
To serve, just slice like a pie.
Prep Time
15 minutes (leave compressed for at least 6 hours before eating)
Cook Time
5 minutes
Nutrition Information
Serves 4-6
More great sandwich recipes:
Three Brilliant Ways With Bagels
Avocado Cheese On Toast
Spicy Lamb & Mint Flatbreads
Bacon & Egg Bruschetta