What's better than meatballs? Flamin' hot BBq meatballs of course! This recipe is perfect when you're looking for a dish that has that extra kick.
Follow these easy steps to make your very own meatballs and an accompanying fiery sauce. Serve with warm garlic bread for a totally comforting dinner.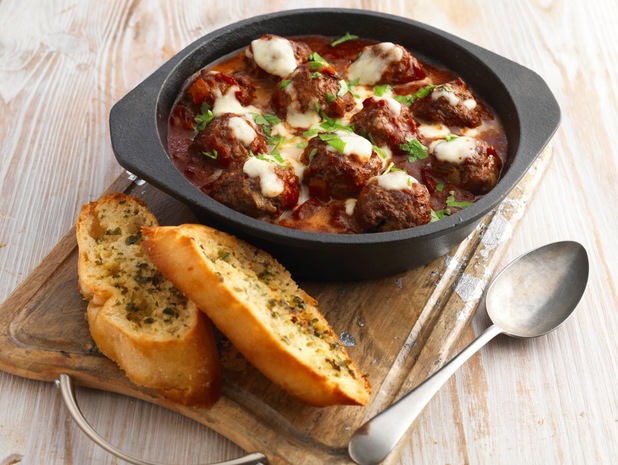 Ingredients
For the meatballs:
2 tablespoons olive oil
150g onion, finely chopped
1 clove garlic, crushed
Red chilli finely chopped – optional
900g freshly minced beef
2 teaspoons Italian herbs, dried
1 egg, beaten
50g breadcrumbs, fresh
salt and freshly ground black pepper
For the extra hot sauce:
3 tablespoons olive oil
110g/4oz onion, finely diced
1 garlic clove, crushed
1 teaspoon sugar
Salt and freshly ground black pepper
400g can chopped tomatoes
220ml (a bottle) Jack Daniel's Extra Hot Habanero Barbecue Sauce
150g mozzarella/parmesan grated
To serve:
Garlic bread
Method
1
Heat two tablespoons of olive oil in a heavy stainless steel saucepan over a gentle heat. Add the onion and garlic and cook for about 5 minutes, stirring throughout, until soft and translucent. Allow to cool.
2
In a large bowl, mix the minced beef with the cooked onion and garlic mixture. Add the herbs, chilli (optional), breadcrumbs and beaten egg and season with salt and pepper before mixing well.
3
Divide the mixture into approximately 24 and make into firmly rolled balls. Cover the meatballs and refrigerate until ready to cook.
4
Heat a frying pan with olive oil and seal the meatballs on a medium hot heat turning once browned. Turn down the heat to medium to low and cook through for about 10 minutes.
5
Next, make the sauce. Heat the olive oil in a stainless steel saucepan. Add onion and crushed garlic and cook on a medium heat until soft and translucent.
6
Add the chopped tomatoes and habanero sauce. Cook the sauce on a simmering low heat uncovered for approximately 30 minutes.
7
When the meatballs are cooked, place them in an ovenproof dish with the extra hot sauce. Taste and balance the seasoning sugar, salt and pepper. Top with the grated mozzarella/parmesan and place under a preheated grill until the cheese has melted.
8
Serve the meatballs with fresh warm garlic bread.
Prep Time
15 minutes
Cook Time
40 minutes (including cooking the sauce)
Nutrition Information
Serves 4
Like spice? Try these other fiery recipes:
Jamaican Jerk Chicken & Chips
Spicy Prawn Laksa & Coconut Chilli
Five Minute Fiery Steak
Authentic Mexican Fajitas
Reveal is now on Google Plus! Join us here for the latest pictures, fashion and celebrity news!
More recipes to warm you up this winter