It's National Vegetarian Week, so why don't you try ditching the meat to make this tasty recipe for meat-free burritos?
Whether you're a veggie or just fancy a dish without the meat, this burrito is guaranteed to satisfy your taste buds. Lots of fresh veg and rice are piled into this spicy Mexican treat.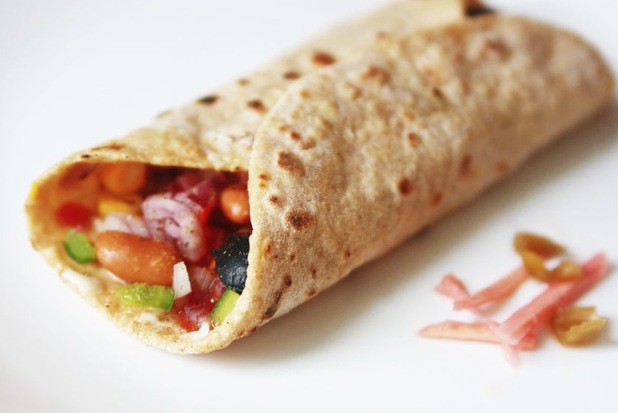 Ingredients
2 (10 inch) flour tortillas
2 tablespoons vegetable oil
1 small onion, chopped
1/2 red pepper, chopped
1 teaspoon minced garlic
1 can black beans, rinsed and drained
3 oz cream cheese
Salt and pepper to taste
2 tablespoons chopped fresh cilantro
1 cup of cooked rice
1 cup of lettuce
4 teaspoons of KanKun® Chipotle
Method
1
Warm the tortillas by heating a medium cast iron or frying pan over high heat until hot, about 3 minutes.
2
Preheat a frying pan for about 2 minutes. Place onion, red pepper, garlic in the pan, cook for 2 minutes stirring occasionally. Add the beans and cook for additional 3 minutes stirring.
3
Cut cream cheese into cubes and add to pan with salt, pepper and KANKUN® Chipotle sauce. Cook for 2 minutes stirring occasionally. Stir cilantro into mixture.
4
Warm the rice in the microwave.
5
To assemble the burrito, place the warmed tortillas on serving plates. Add the vegetable mixture as a base, follow by the rice. Then add some lettuce.
6
Rolled carefully the tortilla ad wrap in aluminium paper.
Prep Time
15-20 minutes
Cook Time
15 minutes
Nutrition Information
Serves 2
Check out these amazing veggie recipes:
Copyright: Morrisons
Reveal is now on Google Plus! Join us here for the latest pictures, fashion and celebrity news!