Mix the classic British breakfast with a dash of Spanish style and this is the result: a tortilla that is a brilliantly filling main meal, made in just minutes.
Cheap, healthful and easily available, eggs are the ultimate fast food. And with a bit of inspiration they can be used to whip up amazing meals in minutes.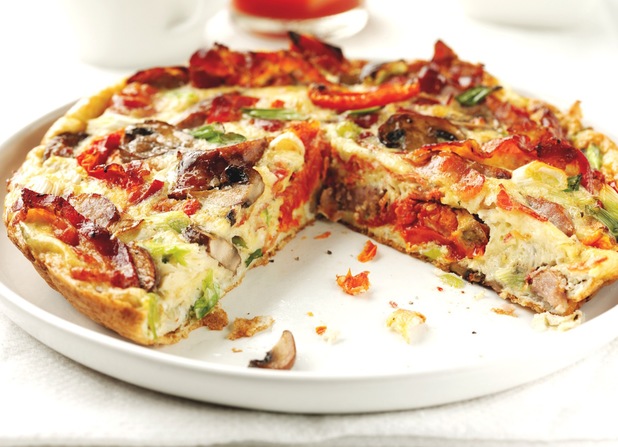 Here in the UK we eat 11.5 billion eggs a year – that's 31.5 million eggs a day, or on average three to four each per week.
If you're fed up with the usual fried, boiled, scrambled options, or need a bit of inspiration to pep up your omelettes, check out
eggrecipes.co.uk.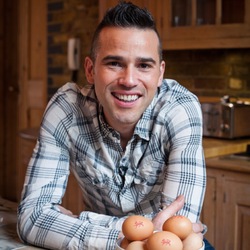 TV chef and ex-MasterChef finalist Dean Edwards – a regular on
This Morning
and
Lorraine
– has created 10 quick and easy recipes for the website.
We love this one, which is just perfect for brunch following a big night out, or as a hearty midweek treat.
"Eggs are so versatile and can be used with a wide range of flavours and ingredients, so creating a meal to suit the whole family is easy once you have a little inspiration," says Dean.
Ingredients
8 large British Lion eggs, beaten and seasoned
4 quality sausages of your choice
100g smoked pancetta rashers, halved
100g chestnut mushrooms, sliced
100g sunblush tomatoes
4 spring onions, sliced
Salt and pepper
Dip sauce to serve (optional)
Method
1
Preheat the oven to 200°C/400°F/gas 6. Grill the sausages until cooked through. Remove and slice each sausage on the diagonal into four pieces.
2
Meanwhile, add the mushrooms and pancetta to a frying pan and cook over a medium to high heat until golden.
3
Add the sausages to the pan along with the sunblush tomatoes and spring onion, then pour in the eggs. Cook until just set around the edges.
4
Transfer to the hot oven and cook for around 6-8 mins until the top is golden and the eggs are set. Turn out onto a plate and serve with a big dollop of your favourite sauce.
Prep Time
10 minutes
Cook Time
10 minutes
Nutrition Information
Serves 4
Check out our gallery for more great breakfast and brunch ideas..