Forget your usual mash or chips for your dinner accompaniment, we've got a great recipe for posh Stichelton cheese and butternut squash gratin!
Tasty cheese, butternut squash and a naughty helping of cream makes this the perfect treat to serve with your chosen meat.
The recipe is courtesy of
Slow Food Week
, which takes place between 1 and 8 June. This organisation aims to reconnect people with forgotten foods and to remind them where food comes from and how it is produced. It encourages us all to choose food from a sustainable, local source – and to really think about where our meals have come from.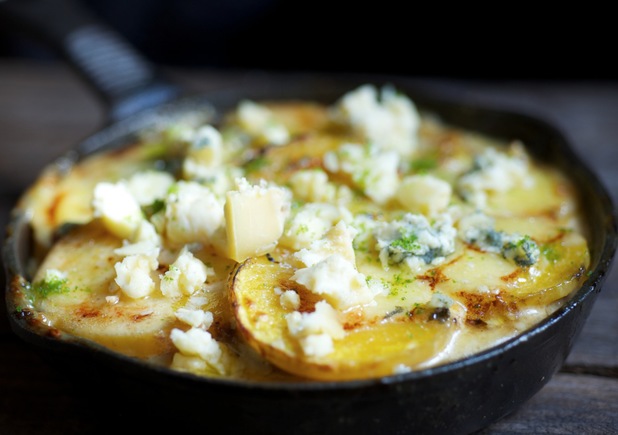 Ingredients
1 large white onion, sliced
1 garlic clove crushed
25g unsalted butter + extra for greasing
1kg butternut squash, peeled and seeds removed, 4mm thick slices
400ml double cream
Sea salt and freshly cracked black pepper
200g Stichelton cheese, crumbed
Method
1
Preheat the oven to 180x and grease an 18cm rectangular oven dish with butter. Set aside.
2
In a large saucepan, over a low heat, sweat the sliced onions and garlic in the butter with seasoning for about 5-8 minutes. Cover the pan with a lid and stir regularly.
3
Once the onions are transparent and soft, but not coloured, add the butternut squash, mix and add the cream.
4
Cover the pan with a lid, increase the heat to medium and bring the cream to the boil. Once boiling, remove the pan from the heat and adjust the seasoning if needed.
5
Layer the butternut squash, onions and cream in the greased oven dish and sprinkle some of the crumbed Stichelton between the layers – keep half of the cheese for the top.
6
Complete the layers and press the butternut down, pour all the cream from the pan over the butternut and scatter the remaining crumbed cheese over the top.
7
Bake in the preheated oven for 20-25 minutes until golden brown and the butternut squash is cooked through.
Prep Time
30 minutes
Cook Time
20-25 minutes
Nutrition Information
Serves 4
Recipe courtesy of Madaelene Bonvini-Hamel and Ross Pike
More great side dishes to make:
Chinese Potato Cakes
Easy Step-By-Step Guide To Chips
BBQ Roast Potatoes
Herb-Roasted Jersey Royals
Check out out gallery below for meat-free feasts...