If you've got some steak but fancy a change from the usual peppercorn sauce and chips combo, why not try these amazing steak kebabs?
Complete with juicy courgettes and vibrant peppers, they are simple to make and great to serve at a BBQ. This recipe also shows you how to make a tasty ketchup dressing to go with your kebabs. Yum!
Perfect for Bank Holiday BBQs.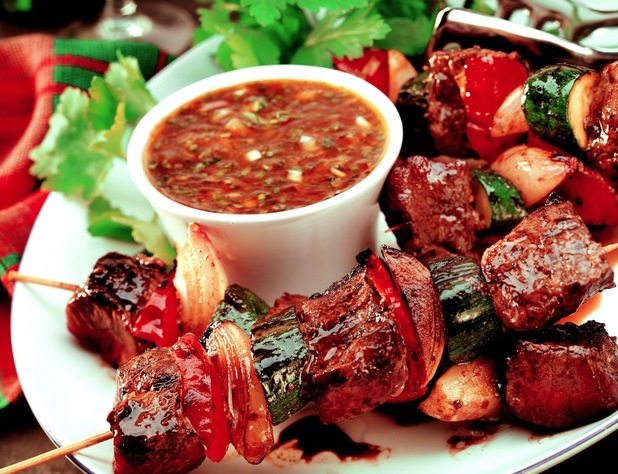 Ingredients
450g sirloin steak, diced (you can ask your butcher to do this)
4 shallots, cut into quarters
2 courgettes, chopped
2 red peppers, chopped
Salt, black pepper, oil, balsamic or wine vinegar
Dressing
3 tablespoons oil
1 tablespoon wine vinegar
3 tablespoons tomato ketchup
2 tablespoons Worcestershire Sauce
Few drops Tabasco
4 shallots, finely chopped
Handful tarragon, chopped
Salt & black pepper
Method
1
Thread the meat on to 8 skewers with the shallots, courgettes and red peppers. Season with salt, black pepper, oil and balsamic vinegar.
2
Mix the dressing ingredients.
3
Cook the kebabs on the barbecue for 3-6 minutes on each side. Serve with the dressing and new potatoes.
Prep Time
10 minutes
Cook Time
6 minutes
Nutrition Information
Serves 4
For more Irish Beef recipes, head here.
Check out these fab BBQ recipes:
Make Your Own Thai Skewers
Bacon Burger With Avocado Mayo
Herby Chicken &Potato Kebabs