Red velvet cupcakes are always a winner, so why not whip up this easy recipe while doing your bit for a really good cause?
We're sharing this scrummy recipe with you to help encourage everyone to get baking in May to raise money for the charity
Children with Cancer UK.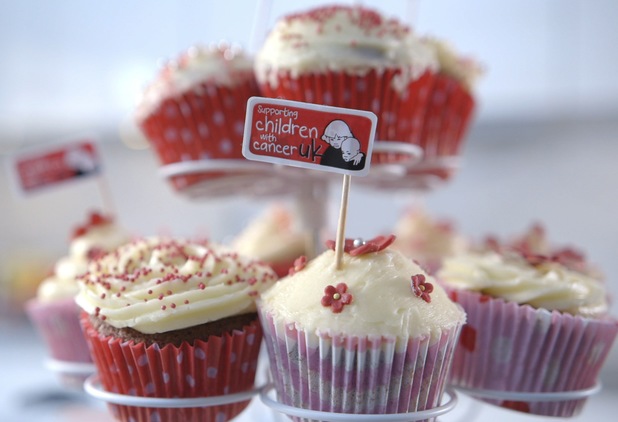 Part-time celebrity chef and 80's singer Paul Young created this yummy recipe – check out the video below to see the man himself showing off his baking skills in the kitchen. And please share this page with
everyone
you know so we can get everyone baking for charity this month!
Ingredients
Three eggs
175g / 6oz butter
175g / 6oz golden caster sugar
150g / 5oz self-raising flour
80g/ 2oz white chocolate, melted
One tablespoon red gel colouring or 40ml of red food colouring
12 cupcake cases
12 hole muffin tin
Method
1
Heat the oven to 180c/350f/gas 4.
2
Put 12 cupcake cases into the muffin tin and set aside.
3
In a large mixing bowl, beat the butter and sugar together until light in colour and fluffy. You can use an electric mixer or a wooden spoon.
4
In a separate bowl, whisk the eggs with a fork and then beat them into the butter and sugar mixture, a little at a time. If it looks like it might curdle add a tablespoon of flour.
5
Sift flour into mixture and fold in. Stir in the melted chocolate and food colouring.
6
Scoop into muffin cases and bake in the preheated oven for 20 minutes. Paul's top tip – you can use an ice cream scoop to get the perfect quantity into every cupcake case!
7
In a clean bowl, combine butter and cream cheese then incorporate icing sugar.
8
Frost the cupcakes and decorate as desired.
Prep Time
15 minutes
Cook Time
20 minutes
Nutrition Information
Makes 12
Watch Paul make these delicious cakes:Children with Cancer UK's Bake Club is taking place throughout May. For more info, head HERE.
Check out more amazing cupcake recipes in our gallery below