If you want to liven up your usual breakfast options, then check out this delish one-pan-rosti.
TV chef and former Mastchef contestant Dean Edwards created this easy recipe, which is a fuss-free dish to make but looks pretty impressive. Serve over the weekend for a gorgeous brunch.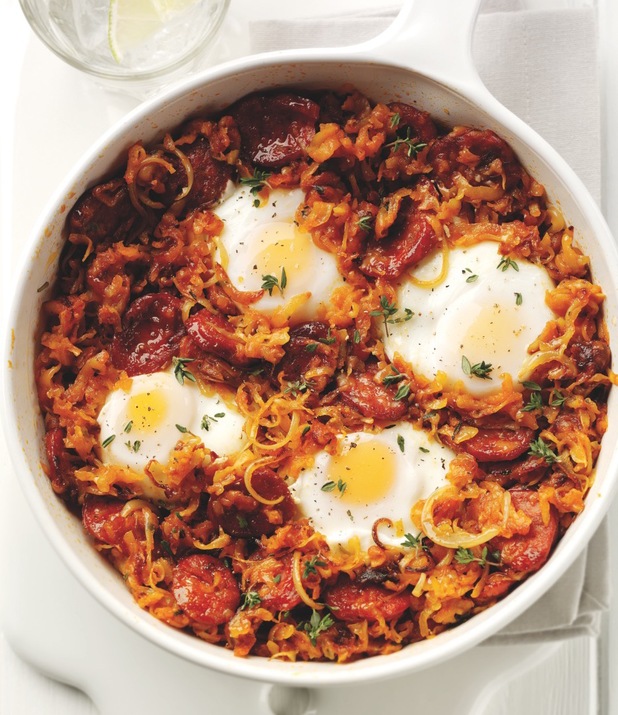 Ingredients
4 large British Lion eggs
2 medium waxy potatoes, peeled and coarsely grated
1 onion, thinly sliced
1 tablespoon fresh thyme, picked
1 tablespoon plain flour
½ teaspoon smoked paprika
20g unsalted butter
100g cured chorizo sausage, sliced
Salt and pepper
Method
1
Grate the potato and dry in a clean tea towel. Try to squeeze out any excess starchy water before placing in a bowl with the onion, thyme, paprika and flour. Season with salt and pepper.
2
Fry the chorizo for around 1-2 minutes until it starts to release its oils. Add the butter, potato and onion and spread into a thin layer.
3
Cook on a medium heat until it starts to brown, then break up and leave to brown again. This will take 8-10 minutes.
4
Make four wells in the potato mixture and crack in the eggs. Continue cooking until the whites have just started to set.
5
Place under a preheated grill and cook until the whites are set. Garnish with some more fresh thyme before serving.
Prep Time
10 minutes
Cook Time
15 minutes
Nutrition Information
Serves 2
For more egg recipes, head here.
More eggs recipes to try:
Egg, Avocado & Bacon Salad
Spanish-style eggs
Boiled Egg With Soldiers
Vegetarian Scotch Eggs
Check out our recipe gallery for more amazing brunch and breakfast ideas.