Give your standard omelette an exciting kick with this chilli cheese and jalapeño recipe, courtesy of TV chef and Masterchef runner up, Dean Edwards.
Super easy to whip up; it uses an array of fiery ingredients to create a great spicy taste and even shows you how to make your own accompanying salsa.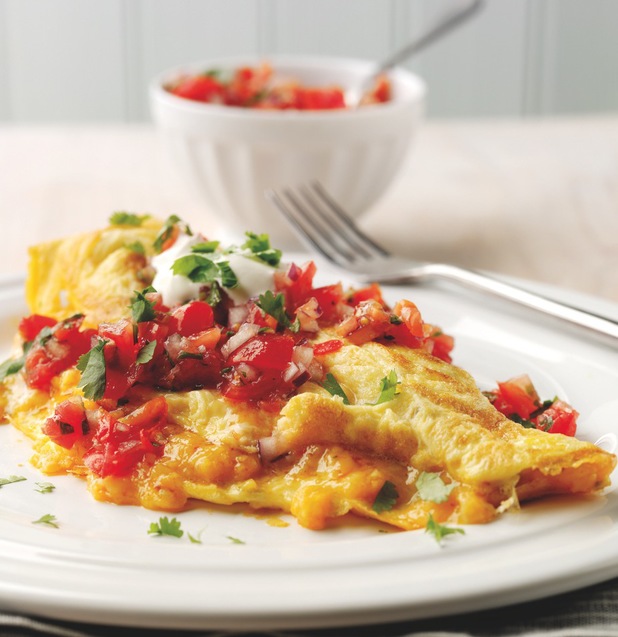 Ingredients
3 large British Lion eggs
10g unsalted butter
5-6 pickled jalapeño chillies, finely chopped
50g Mexican chilli cheese, grated
1 tablespoon soured cream, to serve
For the salsa:
200g baby plum tomatoes
½ red onion, finely diced
½ red chilli, finely diced
1 lime, juiced
20ml olive oil
2 tablespoons coriander, chopped
Salt and pepper
Method
1
Make the salsa: in a mini blender add the tomatoes, onion, chilli, coriander and blitz for a few seconds. Season and dress with lime juice and olive oil.
2
Beat the eggs and season well with salt and pepper. Stir through the pickled jalapeños.
3
Place the butter in a medium heat non-stick pan. Add the eggs, folding as you go. Sprinkle over the grated cheese as the omelette begins to set.
4
When the omelette is nearly set, remove from the heat and fold before turning onto a serving plate.
5
Serve the omelette with some of the salsa and a dollop of soured cream. Scatter with more chopped coriander if desired.
Prep Time
5 minutes
Cook Time
5 minutes
Nutrition Information
Serves 1
For more egg recipes, head
here
.
Love spice? Check out our gallery of dishes with a kick below