It might sound an odd combination, but this chilli and chocolate sauce is a fabulous accompaniment to a juicy home-cooked steak.A chocoholics' delight, this is a great recipe for an Easter meal with family and friends.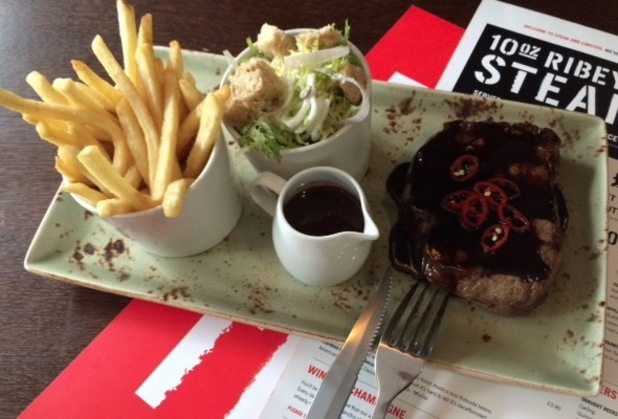 And if you don't fancy cooking it yourself, check out the Radisson Blu Edwardian hotel at
Manchester's Free Trade Hall
where they will be serving it up with their steaks from 18-21 April.
Many thanks to head chef
Matthew Downes
for sharing this yummy recipe with us. Chocolate savoury sauce? We like!
Ingredients
187.5ml beef stock
90ml red wine
95g dark chocolate
100ml double cream
¼ diced Spanish onion
1 glove of garlic
1 sprig of thyme (picked and chopped)
1 red chilli
Salt to taste
Pepper to taste
Method
1
Pan fry onion, garlic and red chilli, this should take 2-3 minutes.
2
Add the red wine and reduce by half. Then add the beef stock and bring to the boil to also reduce by half.
3
Whisk in the chocolate and continue stirring until the chocolate has melted and the sauce is thickened and glossy.
4
Add the cream and the thyme. Season to taste.
Prep Time
5 minutes
Cook Time
5 minutes
Nutrition Information
Serves 4
Love chocolate? Try these other fab recipes:
Hazelnut & Pecan Chocolate Brownies
Spiced Chocolate & Orange Hot Cross Buns
Strawberry Pots With White Chocolate Mousse
Sweet Scotch Cadbury Creme Eggs