Not sure what to do with that leftover roast chicken? Try out this great chicken noodle recipe, which is so simple to make.
Chicken, exciting spices and moreish noodles are all piled into this oriental dish. Ideal for a warming lunch or light dinner, this is a great change from your usual tomato soup!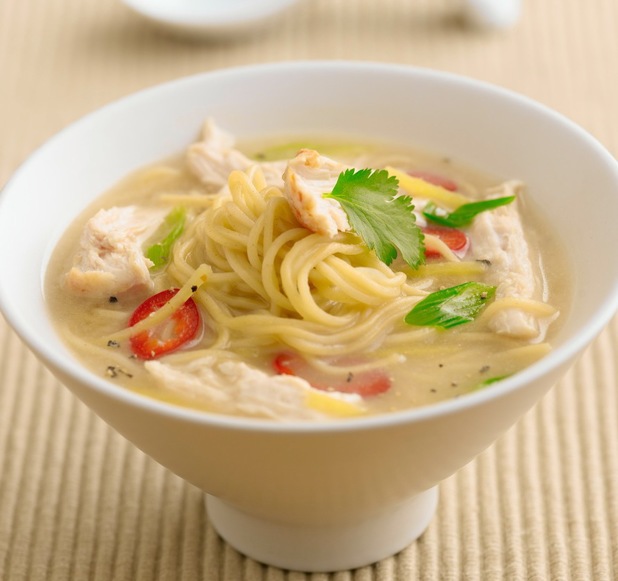 Ingredients
500ml MasterChef Chicken Stock
50g left over roast chicken, cut into chunks.
¼ teaspoon Chinese five spice powder
1 teaspoon fresh grated ginger
1 crushed garlic clove
1 spring onion, sliced
2 tablespoons light soy sauce
50g egg noodles
50g sweetcorn
Ground black pepper
To serve: Sliced red chilli, sliced spring onion, flat leaf parsley (optional)
Method
1
Pour the chicken stock into a large pan and add the spring onion, sweetcorn, Chinese 5 Spice powder, ginger, garlic and soy sauce. Cover and cook gently for 10 minutes.
2
Add the egg noodles to the pan and simmer gently for 5 minutes, then add the chicken and cook for a further 2 minutes.
3
Season with pepper and serve.
Prep Time
5 minutes
Cook Time
20 minutes
Nutrition Information
Serves 2
MasterChef Food oils, stocks and gravies are available from Tesco and start with an RRP of £2.99. For more information head hereMore tasty chicken recipes:
James Martin's Chicken & White Bean Salad
Coconut Chicken Curry
Ken Hom's Thai Green Curry
Mini Chicken Pizza Naans