Yay! The sun is out and it's time to ditch the hearty winter stews and casseroles for something a whole lot lighter.

There still is a nip in the air, though, so we reckon this hearty Chicken & White Bean Salad from Saturday Kitchen's James Martin is just the perfect dish to see you through to summer
.
TV chef James created the recipe specially for
Canned Food Week
which is taking place this week. It's a great way of combining leftover chicken with a can of beans you may have hanging around the kitchen to create a delicious, quick and easy meal.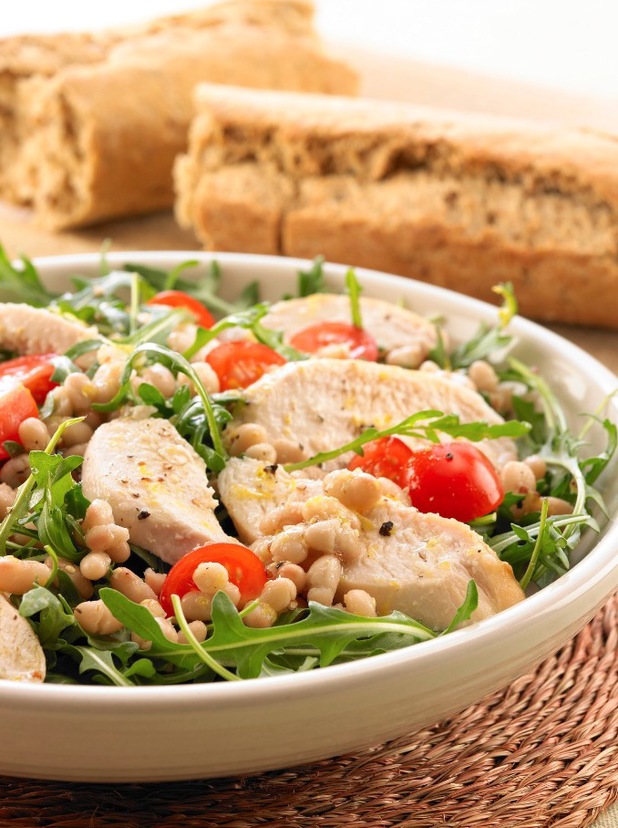 Ingredients
400g can haricot beans, rinsed and drained
3 Tbsp extra virgin olive oil
1 Tbsp wholegrain mustard
Zest and juice of a lemon
Seasoning
70g bag rocket
2 cooked chicken breasts, sliced
8 cherry tomatoes, quartered
Method
1
Place haricot beans in a bowl.
2
Whisk the oil with the mustard and lemon zest and juice and season.
3
Drizzle half of the dressing over the beans. Gently toss to coat.
4
Divide the rocket between two serving dishes and then scatter with the beans.
5
Add chicken and tomatoes and then drizzle over remaining dressing.
Prep Time
10 minutes
Cook Time
Zero minutes - no cooking involved
Nutrition Information
Serves 2
Chef's tip: Serve with warmed bread to mop up the juices.
More Super Salads to try:
Egg, Avocado & Bacon Salad
Fig, Orange & Blue Cheese Salad
Chicken Salad with a twist
Traditional Tabbouleh Salad