Looking for a brilliant vegetarian recipe? Feast your eyes on this scrummy coconut and lentil pilaf.
It involves cooking rice with an array of lovely spices and seasonings, for a meal that's packed with flavour.
The recipe comes from
The City Kitchen
- a range of ready-made meals which use ingredients from all over the world. However if you want to make this delicious dish yourself, read on…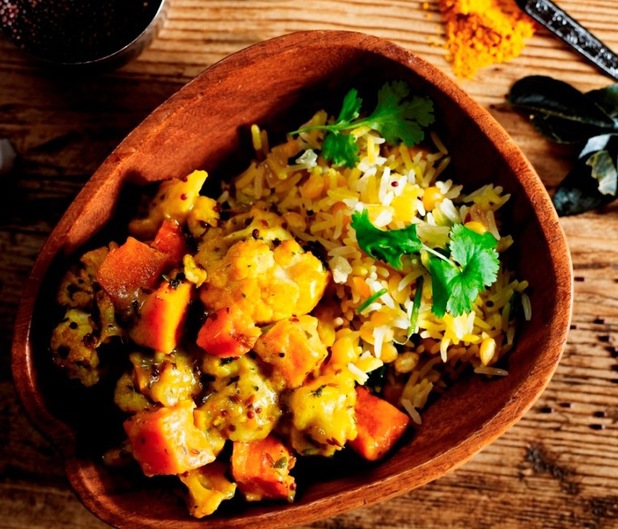 Ingredients
200g sweet potato, cut into 1" dice
1 head of cauliflower cut into medium sized florets
100g split peas
100g basmati rice
50g white onion, diced finely
10g mustard seeds
10g cumin seeds
100ml coconut cream
35ml oil, preferably rape seed
25g ginger, chopped finely
15ml lime juice
1 vegetable stock cube
10g garlic, chopped finely
A pinch of salt
5g curry leaves
3g turmeric
2g ground cumin
10g corn flour mixed with water to a paste
5g red chilli, deseeded and finely chopped
Handful of fresh coriander
Method
1
Preheat the oven to 180c/350F/ gas mark 4.
2
Mix the cauliflower with the chopped chili, 1g of turmeric, 2g each of mustard seed and cumin seed, as well as 10ml of the oil.
3
Spread the cauliflower mixture across a baking tray and cook for 15-20 minutes or until they start to soften.
4
Mix the sweet potato with 5ml of oil and spread across a baking tray – bake alongside the cauliflower until just soft.
5
Bring a pan of water to the boil, add the split peas and cook until just tender.
6
Wash the rice under cold running water, drain and add to a pan with 200ml of cold water. Bring to a gentle simmer and cook until the water is absorbed. Remove from the heat and cover.
7
To make the sauce, warm the remaining oil in a saucepan over a moderate heat. Add the remaining cumin and mustard seeds and the curry leaves. Fry briefly to release a nutty aroma, but be careful not to burn them.
8
When the seeds are a pleasant golden brown add the onion, ginger and garlic. Cook until soft, stirring often.
9
When soft, add the remaining turmeric, cumin and salt and cook out for around 1 minute.
10
Add 200ml of water and the stock cube – bring to a gentle simmer continuing for 15 minutes. Then add in the coconut cream and if necessary, a bit of the corn flour to thicken, stirring continuously.
11
Remove from the heat and finish with the lime juice and some chopped coriander. Finally stir in the cooked cauliflower and sweet potato.
12
Mix the split peas and basmati rice together and heat in the microwave until piping hot. Stir through some fresh coriander and serve with the South Indian sauce and vegetables.
Prep Time
30 minutes
Cook Time
1 hour approx (but the longer you cook it, the more the flavours will infuse)
Nutrition Information
Serves 4
Check out our gallery for more delicious vegetarian recipes