Check out this easy recipe for a simple spaghetti dish that's bursting with flavour and will go down well with the whole family.
Spaghetti al Pomodoro is a classic Italian meal that involves spaghetti and a gorgeous tomato sauce. Better still, the sauce works well with pretty much any type of pasta and is so much tastier then the shop bought variety.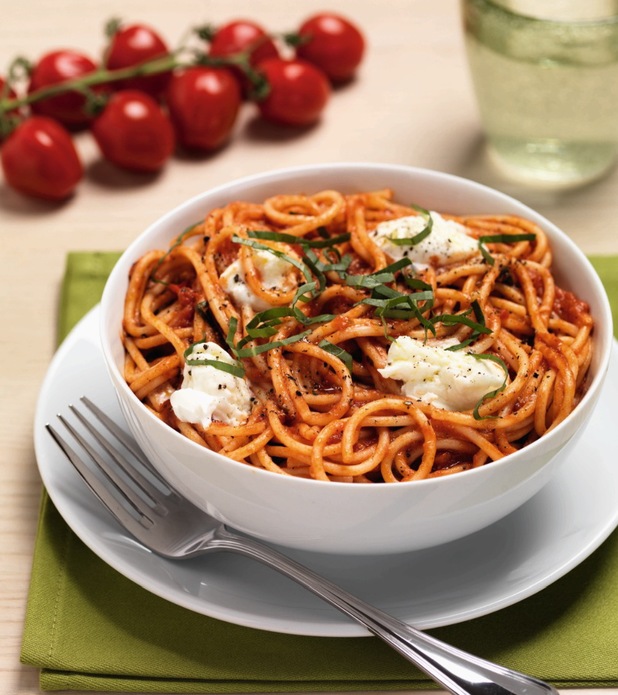 Ingredients
4 tablespoons ASK Italian extra virgin olive oil
3 garlic cloves, finely chopped
230g plum tomatoes, de-seeded and quartered
1 x 400g tin chopped tomatoes
500g tomato passata
12 basil leaves, finely chopped
500g De Cecco or other Italian spaghetti
200g buffalo mozzarella, torn into bite size pieces
Salt and freshly ground black pepper
Method
1
Bring a large pan of salted water to the rolling boil for the pasta.
2
Heat 2 tablespoons of the oil in a large saucepan over a low heat. Add the chopped garlic and cook for 1-2 minutes. Stir in the fresh tomatoes and cook for 2 minutes, until they start to soften.
3
Add the tinned tomatoes and the passata with half of the basil. Season to taste with salt and pepper. Then lower the heat and simmer gently for 10 minutes.
4
Meanwhile cook the spaghetti according to the instructions on the packet. Drain when al dente (this means firm to the bite - or leave it longer if you like your pasta softer) and turn the pasta into a heated bowl. Stir in half of the sauce and mix well.
5
Serve the pasta in individual bowls, topped with a spoonful of the remaining sauce, the torn mozzarella pieces, a drizzle of extra virgin oil and a pinch of chopped basil.
Prep Time
15 minutes
Cook Time
20 minutes
Nutrition Information
Serves 4-6
Recipe courtesy of the ASK Italian Cookbook, published by Penguin, RRP £10. For more information, head here.
More tasty pasta recipes:
Pork & Chorizo Meatballs With Spaghetti
Welsh Lamb Linguine With Peas & Leeks
Stilton, Asparagus & Tomato Tagliatelle
Alvaro Maccioni's Arrabiata Penne