Cauliflower cheese is a classic dish and we always love a good serving of mac and cheese – but what about combining the two?
That's exactly what this recipe does and it tastes so good, trust us! Plenty of cheese, pasta and cauliflower are cooked together in this quick and easy dish. We think we've just found the ultimate comfort food…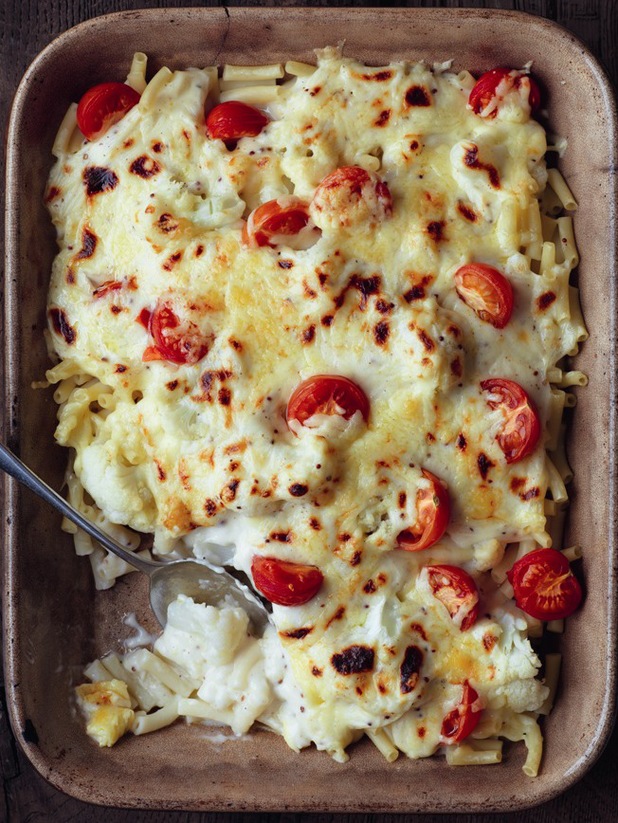 Ingredients
300g dried macaroni
1 medium cauliflower, broken into florets
25g butter
40g plain flour
450ml semi- skimmed milk
1 teaspoon wholegrain mustard
100g vintage (or mature) Cheddar cheese, grated
Freshly ground black pepper
12 cherry tomatoes, halved
Method
1
Cook the macaroni in a large saucepan of gently boiling water for 5 minutes, then add the cauliflower. Cook for a further 5-6 minutes until the pasta and cauliflower are tender.
2
Meanwhile, make the easy all-in-one cheese sauce. Put the butter, flour and milk into a non-stick saucepan and heat, stirring constantly with a small whisk until thickened and smooth. This is the best way to make a smooth, lump-free sauce.
3
Remove the sauce from the heat and add the mustard and half the cheese, stirring it in until melted and smooth. Season to taste.
4
Preheat a medium-hot grill and warm a large baking dish underneath it.
5
Drain the cooked pasta and cauliflower thoroughly. Tip them into the baking dish and pour the hot cheese sauce on top.
6
Arrange the cherry tomatoes over the surface and sprinkle with the remaining cheese. Grill for 5-6 minutes until golden brown and serve.
Prep Time
10 minutes
Cook Time
20 minutes
Nutrition Information
Serves 4
Recipe courtesy of British Cheese Board
Make these other delicious recipes:
Turkey & Leek Pie
Sticky Chicken Drumsticks & Butternut Bake
Cider Roasted Pork Belly
Beef Stew With Garlic Bread Topping